Zucchini, Feta And Sweet Corn Fritters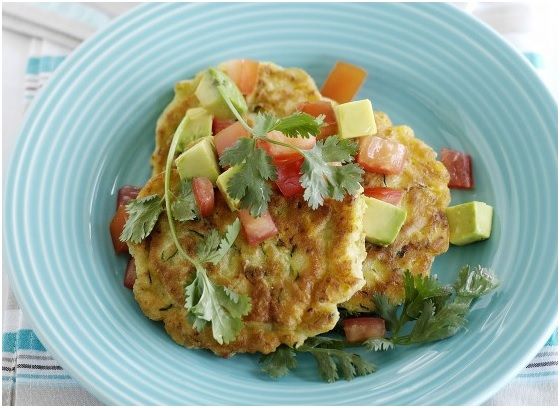 INGREDIENTS
4

cup

Zucchini

-

grated

1

cup

Corn Kernels

-

sweet corn kernels, fresh or frozen

8

Green Onion

-

chopped (green part only)

0.5

cup

Fresh Mint

-

chopped

0.5

cup

Fresh Coriander

-

chopped

0.25

cup

Fresh Parsley

-

chopped

1

Lemon Zest

-

grated

3

Eggs

-

lightly beaten

0.5

cup

Almond Meal

0.5

batch

Rice Flour

1

cup

Feta Cheese

3

tablespoon

Coconut Oil

-

(for frying the fritters in)
INSTRUCTIONS
The trick to getting these fritters to stick together is to draw some of the water out of the grated zucchini. To do this, place the grated zucchini in a colander and toss and coat with a generous pinch of salt. Set the colander in a large bowl (to catch the water from the zucchini), cover and leave for 1 hour or longer, if possible. Refrigerate if leaving for a longer period of time (You can leave this overnight in the frig). During this time, the salt will help to pull the moisture out of the zucchini so you're not left with soggy fritters.

While the zucchini is sweating, combine the sweet corn, green onion, herbs, lemon rind and eggs. Add the almond meal and half of the rice flour. Combine well.

When the zucchini is ready, grab handfuls and squeeze out any excess water before adding to the rest of the ingredients.

Crumble the feta into chunks and fold this in carefully.

Before frying up your fritters, check the consistency of your batter. If the mixture seems too wet, add more flour or almond meal, mixing well each time. You want to be able to shape the batter into patties and have these shapes hold their form.

Form the patties with your hands, shaping them into small, thin rounds (about the size of the bottom o of a muffin tin).

Heat a medium sized skillet over medium high heat and add the coconut oil. Once the oil has melted and is hot, add a few fritters to the skillet, cooking for approximately 4 minutes on each side, until golden and cooked through.
NOTES
These are incredibly versatile – top with a poached egg for breakfast. Or layer with arugula and cooked salmon.