Vanilla And Strawberry Coconut Ice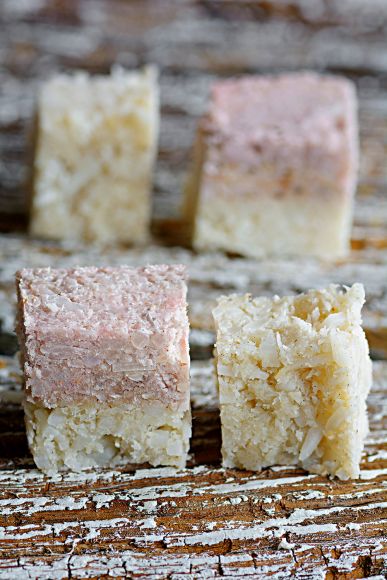 INGREDIENTS
2

cup

Shredded Coconut

-

finely

3.5

tablespoon

Coconut Butter

-

melted

3.5

tablespoon

Coconut Oil

-

melted

teaspoon

Vanilla Powder

-

to taste

4

drop

Liquid Stevia Extract

-

no inulin

0.5

cup

Strawberries
INSTRUCTIONS
To make the ice, place the coconut, melted coconut butter and oil, vanilla, and Stevia in a bowl and mix to combine.

If the mixture is too dry, melt some more coconut oil and add it to the mixture.Split the mixture in half.

Place the strawberries in a blender and liquefy. Pour the strawberry purée through a fine mesh sieve to remove the seeds. Stir the strawberry into one portion of the coconut mixture.

Line a loaf pan with parchment paper. Place the vanilla coconut in the base of a loaf pan. Pat it down so it covers the entire base and is flat on the surface. Pour over the strawberry-coconut and pat it down so it covers the entire surface.

Refrigerate for at least 2 hours or overnight to solidify.

To serve, remove from the pan and cut into cubes with a sharp knife.
NOTES
The coconut ice will get crumbly if left out of the fridge for too long, so return to the fridge when not eating it. It will keep for a few days.