Vanilla And Cinnamon Granola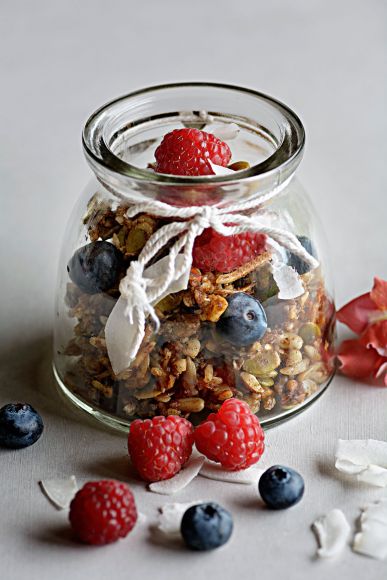 INGREDIENTS
1

cup

Macadamia Nuts

0.5

cup

Almonds

0.5

cup

Pecans

0.5

cup

Flaked Coconut

4

tablespoon

Pumpkin Seeds

4

tablespoon

Sunflower Seeds

1

teaspoon

Vanilla Powder

2

teaspoon

Ground Cinnamon

2

tablespoon

Coconut Oil

1.5

tablespoon

Clover Honey
INSTRUCTIONS
Preheat the oven to 350ºF.

Line a large, deep baking sheet with parchment paper.

Place the nuts into a food processor and blend until chopped to a consistency you are happy with.

Place the nuts in a large bowl. Stir in the coconut,

Pumpkin seeds, sunflower seeds and spices.

Melt the coconut oil and honey. Pour over the dry mixture and stir until completely combined.

Pour onto the baking sheet. Cook for 10 minutes, then remove from the oven and stir thoroughly. Return to the oven. Repeat this process until the granola is golden (keep an eye on the granola as it can burn very quickly). Remove from the oven and cool, then store in an airtight container in the fridge.
NOTES
We recommend serving this with almond milk and a sprinkling of blueberries.
Honey contains fructose. Northern latitude honey (clover, raspberry, alfalfa) contain a closer ratio of fructose to glucose than tropical honey (like the honey that Monash University tested and noted as a high fodmap food). Since northern latitude honey contains a closer ratio of fructose to glucose, this improves fructose absorption and we find that many people with fructose intolerance can enjoy a small amount of northern latitude honey. Please try this and see how you do (easy enough to test out in tea, like Rooibos tea).
Guest Guru Patsy Catsos recommends to her patients and readers, to not include honey. If you were referred to GutRxGurus by Patsy, please omit honey from this recipe. We're happy to make a suitable substitution suggestion. Feel free to post a question in the forum!