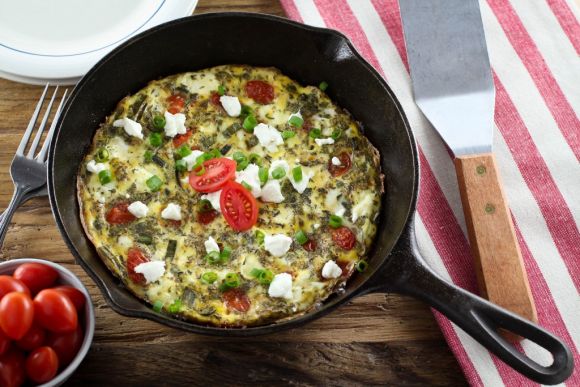 INGREDIENTS
3

teaspoon

Olive Oil

-

divided

0.5

cup

Leek

-

chopped,leaves

0.5

teaspoon

Sea Salt

-

divided

0.5

teaspoon

Freshly Ground Black Pepper

-

divided

0.5

cup

Grape Tomato

0.25

cup

Capers

-

rinsed and drained

3

Egg White

1

teaspoon

Herbs de Provence

-

dried

1

tablespoon

Dried Thyme

2

Egg Yolk

2

ounce

Goat Cheese

-

crumbled
INSTRUCTIONS
1.Preheat oven to 350°F.

2.Heat 2 teaspoons oil in a 10" ovenproof nonstick skillet over medium heat. Add leeks, 1⁄4 teaspoon salt, and a 1⁄4 teaspoon pepper. Cook 5 minutes. Stir in grape tomatoes and capers. Cover and cook 3 minutes. Transfer to a small bowl.

3.In a medium bowl, quickly beat egg whites with herbes de Provence, thyme, and remaining salt and pepper. Whisk in egg yolks. Whisk until mixture is fluffy.

4.Brush skillet with remaining olive oil. Add eggs, cooked tomato mixture, and goat cheese. Cook over medium heat 4 minutes. Transfer to oven; bake 15–20 minutes or until eggs are set. To check, cut a small slit in center of frittata.
NOTES
This recipe is one of over 300 recipes from Colleen Francioli's new book, The Everything® Low-FODMAP Diet Cookbook. Copyright © 2016 by F+W Media, Inc. Onions aren't allowed on the low-FODMAP diet but you can use leek leaves, and they are delicious with eggs. Serve this frittata garnished with some extra goat cheese, tomato slices, and sliced green onions.
Photo by Kelly Jaggers.