Sweet Potato With Avocado, Cucumber, Smoked Salmon And Poached Egg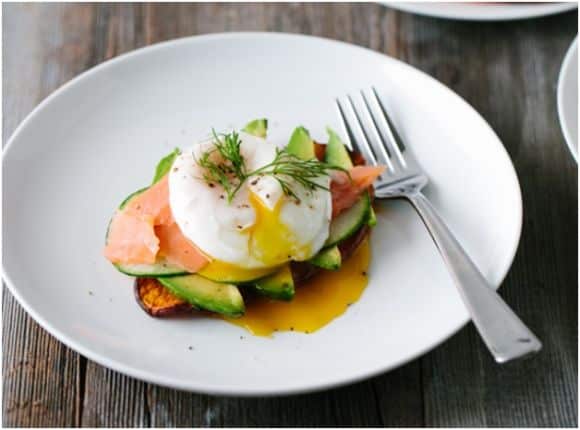 INGREDIENTS
1

medium

Sweet Potato

2

tablespoon

Coconut Oil

0.5

teaspoon

White Vinegar

4

Eggs

1

small

Avocado

1

Cucumber

-

sliced thinly

5

ounce

Smoked Salmon

-

5 oz package

0.13

teaspoon

Sea Salt

0.13

teaspoon

Pepper

1

tablespoon

Fresh Dill

-

chopped
INSTRUCTIONS
Preheat oven to 400°F.

Wash the sweet potato and slice thinly, lengthwise.

Cover a large baking sheet with parchment paper or foil. Lay out the thinly sliced sweet potato in a single layer on the baking sheet.

Melt 2 T coconut oil in a small glass bowl in the microwave (approximately 30-40 seconds) and then brush the sweet potatoes on each side. Bake for 20-30 minutes, until cooked through and lightly browned.

While the potato is baking, bring a medium saucepan filled with water to a boil, then reduce heat to just under boiling.Add ½ teaspoon of white vinegar to the water. Crack.the eggs into the water and cook for exactly 4 minutes.Remove the eggs from the pot with a slotted spoon.

Slice the avocado into thin slices.

To serve, layer the potato, avocado, cucumber, and smoked salmon, then top with the egg and a sprinkle of dill.