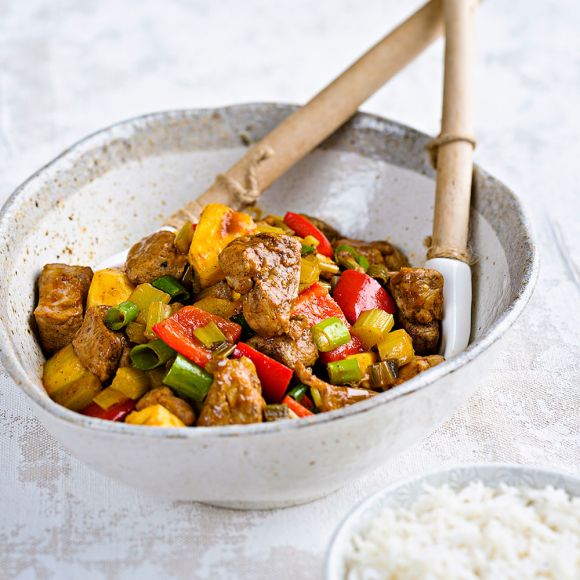 INGREDIENTS
1

pound

Pork Tenderloin

-

cubed

1

teaspoon

Szechuan Peppercorns

1

teaspoon

Salt

2

tablespoon

Coconut Oil

0.75

inch

Fresh Ginger

-

grated

1

Celery Stalk

-

diced

1

Red Pepper

-

cubed

4

Green Onion

-

sliced (green part only)

0.55

tablespoon

Apple Cider Vinegar

1

teaspoon

Clover Honey

2

tablespoon

Tomato Paste

2

tablespoon

Tamari

-

wheat free

0.13

teaspoon

Sea Salt

0.13

teaspoon

Freshly Ground Pepper

1

cup

Pineapple

-

diced
INSTRUCTIONS
To make the pork, sprinkle the Szechuan pepper and salt over the pork. Heat a large wok over high heat. Melt 1 tablespoon of coconut oil in the wok, then add the pork pieces in batches, stir-frying them until just cooked through. Remove from the wok and set aside. Repeat until all pieces have been cooked.

Add 1 tablespoon of coconut oil to the wok, then add the ginger and celery. Stir-fry for 1 minute, then add the red pepper and stir-fry for 1 minute more. Add in the pineapple and green onions and stir through. Add the apple cider vinegar, honey, tomato paste, and coconut aminos. Stir-fry until bubbling.

Return the pork to the wok and stir-fry until heated through. Taste and season with salt and pepper accordingly.

Divide between four bowls and enjoy immediately.
NOTES
If you can tolerate rice, add ½ cup well cooked jasmine rice per serving.
Honey contains fructose. Northern latitude honey (clover, raspberry, alfalfa) contain a closer ratio of fructose to glucose than tropical honey (like the honey that Monash University tested and noted as a high fodmap food). Since northern latitude honey contains a closer ratio of fructose to glucose, this improves fructose absorption and we find that many people with fructose intolerance can enjoy a small amount of northern latitude honey. Please try this and see how you do (easy enough to test out in tea, like Rooibos tea).
Guest Guru Patsy Catsos recommends to her patients and readers, to not include honey. If you were referred to GutRxGurus by Patsy, please omit honey from this recipe. We're happy to make a suitable substitution suggestion. Feel free to post a question in the forum!