Succulent Lemon And Thyme Roast Chicken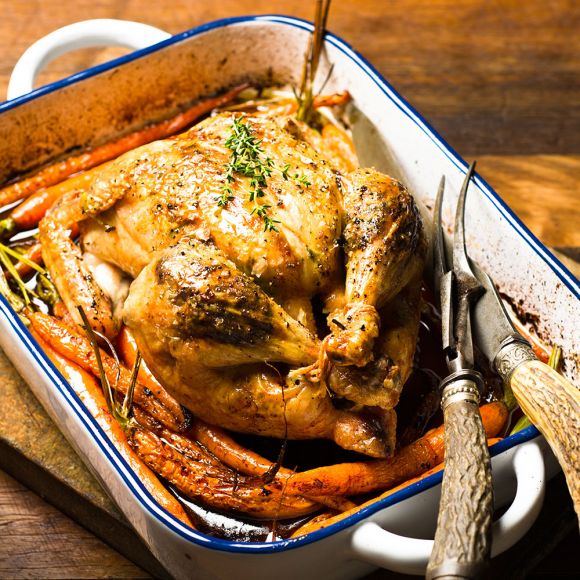 INGREDIENTS
1

whole

Chicken

4

tablespoon

Ghee

1

Lemon

1

bunch

Fresh Thyme

2

teaspoon

Salt

2

teaspoon

Ground Black Pepper

1

tablespoon

Olive Oil

1

bunch

Baby Carrots

-

washed and trimmed
INSTRUCTIONS
Preheat your oven to 350ºF.

Place the softened ghee in a bowl. Zest the lemon and add it to the bowl. Set the lemon aside.

Remove about 1 tablespoon of thyme leaves from the bunch and chop lightly. Add to the bowl.

Add 1 teaspoon each of salt and pepper. Stir to combine. Set aside.

Rinse and pat dry your chicken. Carefully separate the skin away from the meat on the breast and leg meat by sliding your finger under the skin and gently pulling it away from the meat. This will allow you to create a pocket for the flavored ghee.

Taking a spoonful at a time, slide the ghee mixture under the skin, being careful not to pierce the skin. Insert ghee to cover the breast and leg meat.

Place the lemon inside the cavity along with half of the thyme. Secure the legs together with

kitchen twine. Rub olive oil over the chicken, then sprinkle with the remaining salt and pepper.

Place the remaining thyme on the base of a roasting pan. Place the chicken on top. Add the carrots around the chicken. Place in the oven for 1 hour, or until the chicken is cooked through, to an internal temperature of 165°F. If the chicken is browning too quickly, cover it lightly with foil.

Once cooked, remove from the oven, cover, and let rest for 15 minutes before carving. Serve with roasted carrots.