Spirulina Coconut Chia Pudding With Lemon & Mint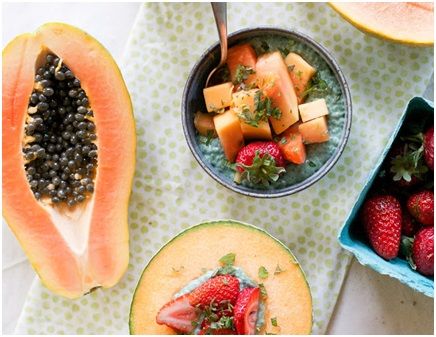 INGREDIENTS
0.5

cup

Coconut Milk

-

full fat

0.25

teaspoon

Vanilla Extract

0.25

teaspoon

Spirulina

1

tablespoon

Maple Syrup

0.25

teaspoon

Lemon Zest

-

(~ ½ large lemon)

1

pinch

Sea Salt

2.5

tablespoon

Chia Seeds

Papaya

-

to taste

Strawberries

-

to taste

Fresh Mint

-

to taste

0.5

cup

Nut Milk

-

homemade
INSTRUCTIONS
In a medium bowl add the nut milk, coconut milk, vanilla, spirulina, maple syrup, lemon zest, and sea salt.

Whisk until combined and the spirulina is dissolved (some of the spirulina will remain in little clumps..that is okay it will dissolve over time). Add the chia seeds and whisk some more. Pour into an airtight container and store in the refrigerator overnight or at least 8 hours to allow the chia seeds to plump up. Alternatively, you can add all the ingredients into a mason jar, screw the lid on tight, and shake vigorously for a minute or two.
NOTES
you may need to stir or shake the chia pudding one or twice while it sits for the 8-12 hours so that the chia seeds are evenly dispersed.
To serve divide the chia seed mixture into bowls (or into small melons), and top with papaya (or your low FODMAP fruit of choice), and a sprinkle of fresh mint. Sometimes I add a little extra coconut drizzle for added creaminess.