Spiral Vegetable And Pesto Quiche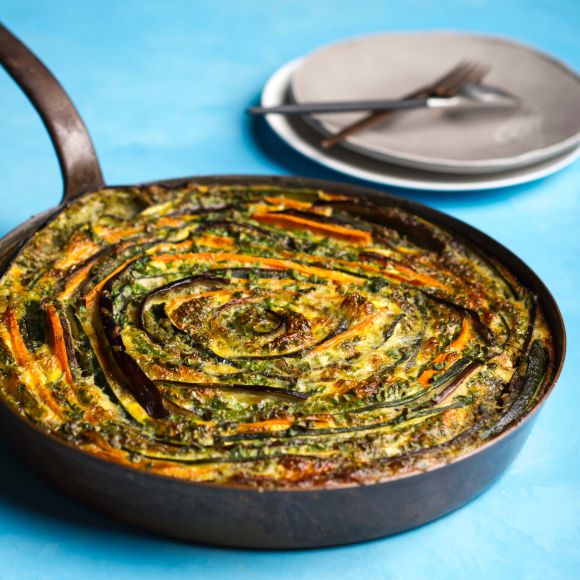 INGREDIENTS
4

tablespoon

Toasted Pine Nuts

4

large

Carrots

2

handful

Fresh Basil Leaves

4

large

Zucchini

0.5

cup

Olive Oil

2

Eggplant

0.5

cup

Grated Parmesan Cheese

12

Egg

0.5

teaspoon

Salt

0.5

teaspoon

Salt

0.5

teaspoon

Pepper

0.5

teaspoon

Pepper

1

handful

Fresh Chives

-

chopped
INSTRUCTIONS
Pre-heat the oven to 180C/350F.

Place all of the pesto ingredients in a blender and blend until well combined. Set aside.

Thinly slice the carrots, zucchini, and eggplant with a knife or mandolin. Spread pesto over the eggplant pieces. Place a slice of eggplant, carrot, and zucchini on top of each other and roll up. Place this in the middle of an enclosed pie/quiche dish. Add a new strip to the spiral until you build it all the way out to the edge. Use any remaining pieces to fill in any gaps.

In a large bowl, beat the eggs, salt, and pepper until well combined. Add the chives and mix

through. Pour the egg mixture over the vegetable spiral, ensuring there are no gaps. Bake in the oven for 40 minutes or until cooked through.
NOTES
To make this suitable for the Restricted and Semi-Restricted phases, omit the
parmesan cheese from the pesto and reduce the olive oil to 1/3 cup.