Spinach And Quinoa Fritters With Poached Egg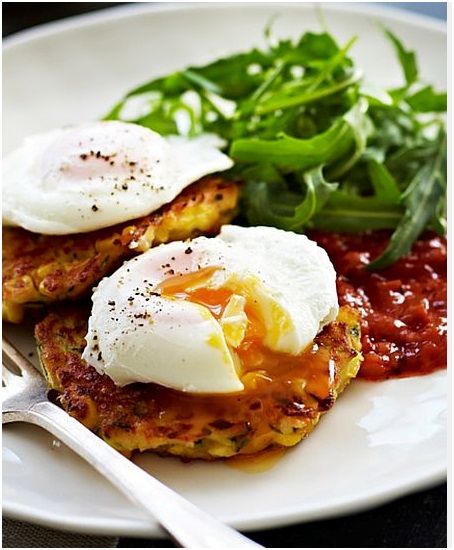 INGREDIENTS
2

tablespoon

Maple Syrup

2

tablespoon

Mirin

-

vinegar

1.5

cup

Tomatoes

-

halved or quartered

1

teaspoon

Salt

0.5

cup

Quinoa

2

cup

Spinach

2

teaspoon

Ground Cumin

2

tablespoon

Coconut Flour

1

Lemon

-

(zest of one lemon)

0.13

teaspoon

Sea Salt

0.25

teaspoon

Pepper

1

Egg

-

beaten

2

tablespoon

Coconut Oil

5

Eggs

-

poached

1

teaspoon

Vinegar

4

cup

Arugula

-

to serve

2

tablespoon

Garlic Chives

-

finely chopped
INSTRUCTIONS
To make the chutney… in a small saucepan over medium high heat, add the maple syrup, mirin, and salt. Boil for 1 minute and then mix in the tomatoes. Simmer for 1 min, then remove from the heat and set aside.

Cook the quinoa as instructed by the packet, but add an extra ½ cup of water and cook it a little longer, closer to 15-18 minutes. Put the cooked quinoa into a medium sized mixing bowl.

Boil water in a tea kettle. Put the spinach in a colander and pour over boiling water from the kettle to wilt. Immediately cool by running under cold tap water, then with your hands, squeeze out as much water as you can. Chop the spinach and add it to the quinoa, along with the cumin, chives and flour, zest, salt and pepper.

Add half of this mixture to a food processor and blitz until it forms a chunky paste. Return to the remaining half, and add the beaten egg. Mix together, then shape into 5-8 thin, small patties and chill until ready to cook.

Heat oven to 400 degrees.

Heat a medium sized skillet over medium high heat and add the coconut oil. Once the oil is hot, add a few fritters to the skillet, cooking for approximately 4 minutes on each side, until golden and cooked through.

Poach the remaining 5 eggs by boiling water in a small pot with water and 1 teaspoon distilled vinegar. Create a whirlpool motion with a slotted spoon in the pot, and add one cracked egg at a time to poach. For a soft poached egg, cook for 3 minutes. (For harder poached egg, cook longer for 4-5 minutes).

To Serve: layer arugula, and fritter and top with a poached egg. Chutney may be served on top, or on the side.