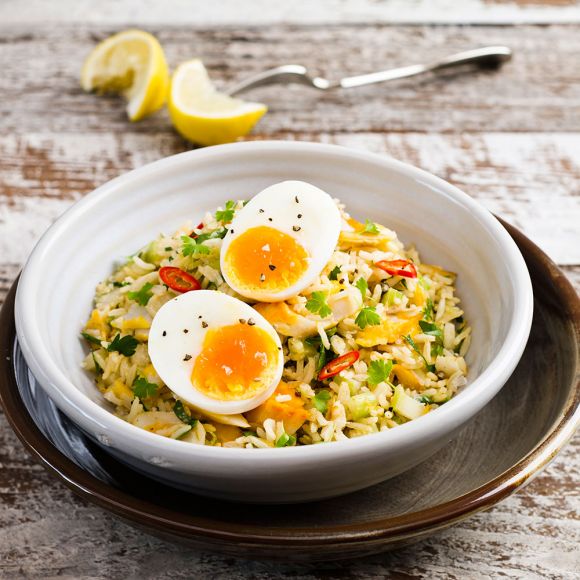 INGREDIENTS
1

pound

White Fish

-

smoked

4

Egg

2

tablespoon

Coconut Oil

4

Green Onion

-

sliced (green part only)

1

Celery Stalk

-

diced

1

Cayenne Pepper

-

thinly sliced

1

tablespoon

Fresh Ginger

-

grated

2

tablespoon

Curry Powder

2

cup

Basmati Rice

-

cooked

0.5

cup

Yogurt

-

24-hour yogurt

0.25

bunch

Fresh Cilantro

-

washed and chopped

1

Lemon

Salt and Pepper

-

to taste
INSTRUCTIONS
Place the fish in a large saucepan. Cover with cold water, then bring to a boil. Once the water is boiling, remove from the heat and let sit in the water for 3 minutes.

Remove the fish and drain the water. When cool enough to handle, peel the skin away from the flesh and discard. Flake the flesh, being careful to remove any bones. Set aside.

Place the eggs in a saucepan of cold water. Bring to a boil and then cook to your liking. For a soft- boiled egg, cook for 5-6 minutes. Remove from the heat. Peel the eggs, then set aside.

In a wok or large frying pan, melt the ghee or coconut oil over medium-high heat. Add the green onion, celery, chili pepper, and ginger and stir for 2 minutes or until softened. Add the curry powder and stir for 30 seconds or until fragrant. Add the rice and stir until it has incorporated with the vegetables and spices. Stir in the yogurt and fish. Squeeze half of the lemon over the mixture and season with salt and pepper.

To serve, divide the mixture into four bowls. Cut the eggs in half and add 2 halves to each bowl. Sprinkle with the cilantro and serve with the remaining lemon cut into wedges.
NOTES
To make a dairy-free version of this recipe, replace the ghee with coconut oil .
You'll find 24 hour yogurt recipe on our site, or you may use Green Valley lactose free yogurt (if you tolerate pectin well).
Please see our Coconut Yogurt recipe or 24 Hour Yogurt recipe, which are both lactose free. Green Valley Yogurt makes a no lactose version, but it also has pectin in it.