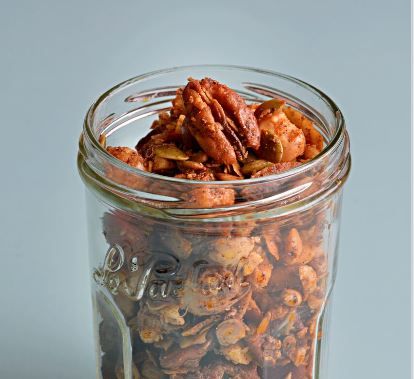 INGREDIENTS
1

cup

Macadamia Nuts

0.5

cup

Pecans

40

Almonds

0.5

cup

Flaked Coconut

-

free from sugar and preservatives

2

tablespoon

Pumpkin Seeds

2

tablespoon

Sunflower Seeds

2

tablespoon

Coconut Oil

-

melted

1

teaspoon

Ground Cumin

1

teaspoon

Ground Coriander

1

teaspoon

Smoked Paprika

1

teaspoon

Sea Salt
INSTRUCTIONS
Preheat the oven to 350ºF. Line a baking sheet with parchment paper.

Roughly chop the macadamia nuts, pecans, and almonds. Put them in a large bowl and add the remaining ingredients. Stir to combine thoroughly.

Place the mix on the baking sheet and bake in the oven for 10 minutes. Remove the sheet from the oven and stir. Return to the oven and cook for an additional 5-10 minutes, or until the mix is golden in color. Watch the nuts carefully as they can burn quickly.

Remove from the oven. Cool completely before storing in an airtight container in the fridge.
NOTES
Once completely cooled overnight in the fridge, it is best to prepack these in single portions, so you don't accidentally over eat.