Spaghetti Squash With Goat Cheese And Pine Nuts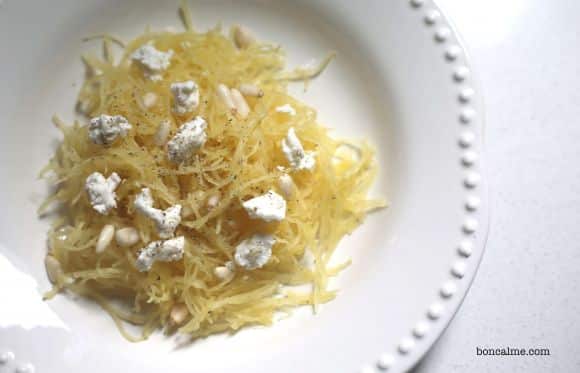 INGREDIENTS
1

large

Spaghetti Squash

0.5

cup

Goat Cheese

-

crumbled

2

tablespoon

Pine Nuts

0.5

tablespoon

Olive Oil

Sea Salt

-

to taste

Sea Salt

-

to taste

Pepper

-

to taste
INSTRUCTIONS
Carefully cut your squash down the middle, leaving two halves.

Next use a spoon to scoop out the seeds from the middle of each half and discard the seeds. Arrange the squash in a 9x13-inch casserole dish, and place the squash cut sides down.

Pour 1/2 cup water into the dish and bake for 30 to 35 minutes on 400 ° Fahrenheit.

Check to make sure the squash is tender then use a fork to rake the squash to pull up its fleshy strands.

Add the squash to a bowl and stir in olive oil, pine nuts, pepper and salt.

Finish by topping with goat cheese crumbles - serve immediately.

You can easily cook the squash and refrigerate following all the steps above and leaving the goat cheese until you are ready to serve. Suggested total low-FODMAP servings for the ingredients above per person are as follows: spaghetti squash up to 1 cup; goat cheese up to ½ cup crumbled, pine nuts up to 1 tablespoon.