Smoked Trout Bites With Lemon Aioli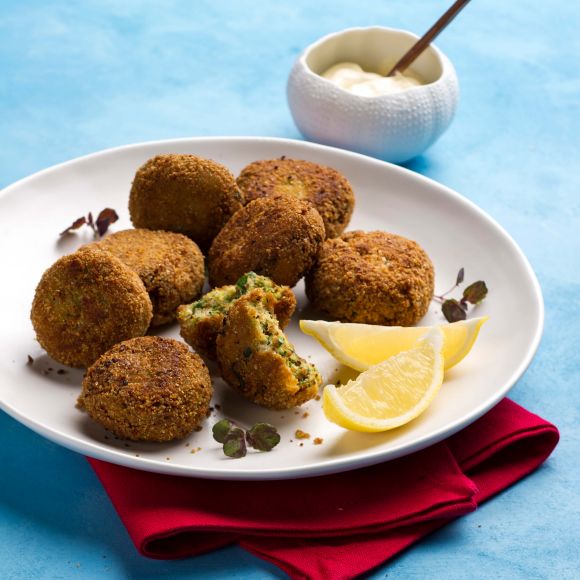 INGREDIENTS
2

Egg Yolk

0.5

Smoked Trout

-

flaked

2

teaspoon

Dijon Mustard

1

Egg

1

Lemon

-

zest and juice

2

Zucchini

-

finely grated

1

cup

Extra Light Olive Oil

1

cup

Almond Meal

Salt and Pepper

-

to taste

1

teaspoon

Salt

0.5

teaspoon

Pepper

0.5

cup

Coconut Oil
INSTRUCTIONS
To make the aioli, place the yolks, mustard, and two teaspoons of lemon juice in a blender and blend. Very slowly, drop by drop, add the first 1/3 cup of olive oil into the egg mixture, being careful to incorporate it thoroughly between each addition. Then pour the remaining oil in a thin stream with the motor running until all oil has been incorporated. Taste and season with salt and pepper. Add two tablespoons of boiling water and incorporate quickly. This will help to stabilise the mayonnaise. Stir through the lemon zest and remaining juice. Set aside.

Place the trout, egg, zucchini, and four tablespoons of almond meal in a large bowl. Add

¼ tsp salt and the pepper, then mix thoroughly. Place the remaining almond meal and salt on a plate and mix to combine. Roll the trout mixture into balls, then coat in almond meal. Repeat until all of the mixture has been used.

Heat a deep frying pan over medium-high heat. Add the coconut oil and bring the pan to temperature. To test if it is the correct temperature for shallow frying, use tongs to dip a

corner of a bite into the oil. If it sizzles, it is ready.

Add the bites into the oil and cook for several minutes until all sides are golden. Drain on paper towel, then serve with the aioli on the side.