Sibo-Ghetti And Meatballs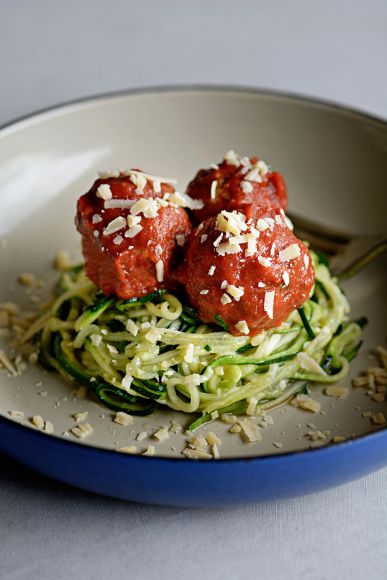 INGREDIENTS
0.33

pound

Ground Beef

0.33

pound

Ground Veal

0.33

pound

Ground Pork

1

Egg

1

teaspoon

Dried Basil

1

teaspoon

Dried Oregano

1

teaspoon

Dried Parsley

2

tablespoon

Coconut Oil

4

Zucchini

1

can

Tomatoes

-

14 oz can ,whole tomatoes, drained

0.5

jar

Tomato Sauce

-

24 oz

0.13

teaspoon

Sea Salt

0.13

teaspoon

Freshly Ground Pepper
INSTRUCTIONS
Place the ground meat, veal and pork, along with the egg, basil, oregano, parsley, and a pinch of salt, and pepper in a large bowl. Mix with your hands to combine. After a few minutes, the mixture should come together nicely. Roll into small balls and set aside on a plate. Refrigerate until required.

Meanwhile, make the zucchini noodles. Using a spiralizer, turn the zucchini into noodles. Place in a colander and cover liberally with salt. Set aside in the sink as the zucchini will release liquid. Let rest for 30 minutes.

To cook the meatballs, heat the 1 tablespoon of coconut oil in a deep, large skillet. Add the meatballs and brown on all sides. Add in the drained tomatoes and break apart with the back of a wooden spoon. Add in the tomato sauce until it partially covers the meatballs. Bring to a simmer and then cook for 20 minutes or until the meatballs are cooked through.

When the meatballs are nearly cooked, remove the zucchini noodles from the colander. Pat dry with paper towel, removing some of the excess salt.

Heat 1 tablespoon of coconut oil in a large, non-stick pan until hot. Quickly add the zucchini noodles, stirring around so they all get coated in oil. Remove from the heat after 1 minute. You want them to retain their firmness and not get mushy.

Place the noodles in a pasta bowl, top with a few meatballs, sauce, and parmesan, if using.