Ruby Grapefruit And Custard Trifle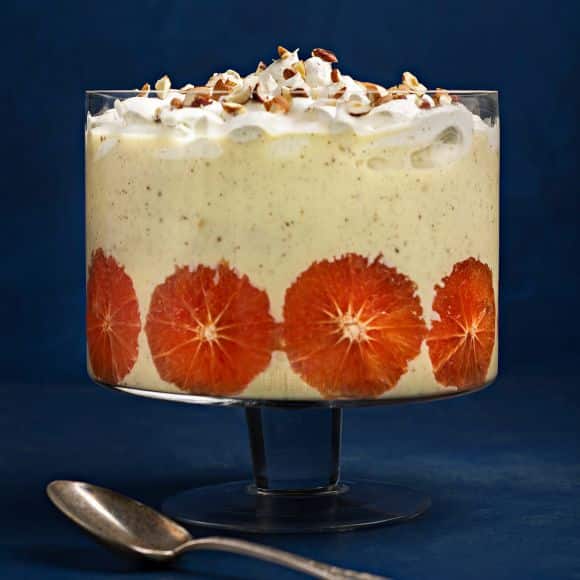 INGREDIENTS
3

Ruby Red Grapefruit

-

rind removed, thinly sliced

2

cup

Coconut Milk

2

cup

Coconut Milk

-

refrigerated

4

Egg

-

separated

1

cup

Almond Milk

1

Orange

-

zest only

1.25

cup

Almond Meal

2

Egg

4

tablespoon

Hazelnuts

-

chopped

0.25

cup

Honey

2

Egg Yolk

4

tablespoon

Almonds

-

chopped

1

teaspoon

Baking Powder

1

Vanilla Bean

-

halved, seeds scraped out

2

tablespoon

Lemon Zest

2

teaspoon

Honey
INSTRUCTIONS
Place the egg yolks and honey in a bowl and beat until combined. Stir through the almond meal, baking powder, and lemon zest. In a separate bowl, whip the egg whites until stiff peaks form. Fold in the almond mixture, keeping in as much air as possible. Pour into the prepared pan and bake for 20-25 minutes or until cooked. Cool.

Next, make the custard. Pour the coconut and almond milk into a saucepan. Add the vanilla bean and seeds. Heat until close to boiling.

Beat the eggs and yolks in a heat-resistant bowl. Slowly pour in the hot milk, stirring constantly. Pour into a double boiler or heat resistant bowl over a pot of simmering water. Return to the heat. Stir constantly with a wooden spoon until it thickens and coats the back of the spoon.

Strain into a clean bowl and discard the vanilla bean. Place in the fridge to chill.

When ready to assemble, scoop the refrigerated coconut milk out of the can. Discard the watery liquid at the bottom. Add half of the orange zest. Whip until stiffened.

Cut the cake in half horizontally. Place the bottom half in a small trifle bowl. Next, place a ring of grapefruit slices around the side of the bowl. Top with some custard and grapefruit slices. Repeat, covering the final layer with custard, then whipped coconut. Decorate with the remaining orange zest and nuts.