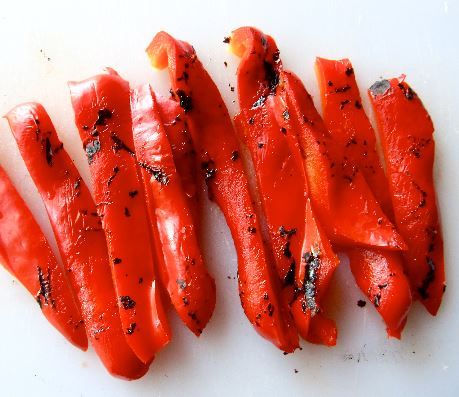 INSTRUCTIONS
Pre-heat the oven to 450 degrees. De-seed and de-stem the peppers. Then cut them in half and place them cut side down on a rimmed baking sheet that has been lined with parchment paper (preferred) or foil.

Roast for about 25 minutes; or until the skins are completely wrinkled and the peppers are charred. Rotating the sheet is necessary for them to cook evenly.
NOTES
Consider roasting a few red peppers to incorporate into meals over a week.
You will see that we use roasted red peppers in sauces, dressing and hummus. They add a deliciously sweet flavor to most dishes, including jasmine rice, greens and pasta dishes.
Roasted red peppers will keep in the refrigerator for up to 4-5 days. You may extend this to a couple of weeks, by storing them in olive oil.
You may also freeze these in a tightly sealed container. Once thawed, you will lose some texture, though flavor is well retained. Once frozen, you'll have roasted red pepper to utilize over several months in hummus, sauces and dressing recipes.
If you want to purchase a jar of roasted red pepper to use in any recipes on the site, make sure that it does not contain any additional spices, like Cento Roasted Red Pepper. Use 1/8 cup of jarred roasted red peppers per 1 red pepper that the recipe calls for.