Roasted Red Pepper Hummus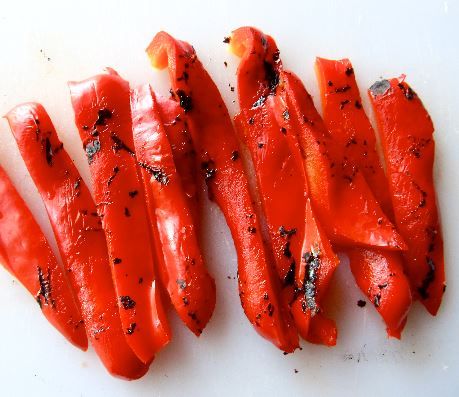 INGREDIENTS
15

ounce

Canned Chickpeas

-

rinsed well (discard liquid from can)

1

Red Pepper

4

tablespoon

Tahini

1

teaspoon

Cumin

-

powder

0.13

teaspoon

Paprika

0.25

teaspoon

Sea Salt

2

tablespoon

Lemon Juice

1

tablespoon

Olive Oil

2

tablespoon

Cold Water
INSTRUCTIONS
To roast the pepper, pre-heat the oven to 450 degrees. De-seed and de-stem the peppers. Then cut them in half and place them cut side down on a rimmed baking sheet that has been lined with parchment paper (preferred) or foil. Roast for about 25 minutes or until the skins are completely wrinkled and the peppers are charred. Rotating the sheet is necessary for them to cook evenly. Remove from oven and allow them to cool to room temperature (you may place in the refrigerator to speed up this process).

To make the hummus, blend all of the ingredients in a food processor, adding more or less water to adjust the consistency.
NOTES
¼ cup of garbanzo beans is considered a low FODMAP food. If you react to ¼ cup, consider using 1-2 tablespoons as a spread for flavor.
To adjust the flavor, increase the tahini.If you want to purchase a jar of roasted red pepper, make sure that it does not contain any additional spices, like Cento Roasted Red Pepper. Use 1/8 cup of jarred roasted red peppers in this recipe.
If you are going to roast one red pepper for this recipe, consider roasting a few to incorporate into meals the rest of the week. *you can also store these in olive oil for a couple of weeks. *you can also freeze these in a tightly sealed container. Once thawed, you will lose some texture, though flavor is well retained, so you may use these over several months in hummus, sauces and dressing recipes.