Raspberry Lemon Chia Seed Jam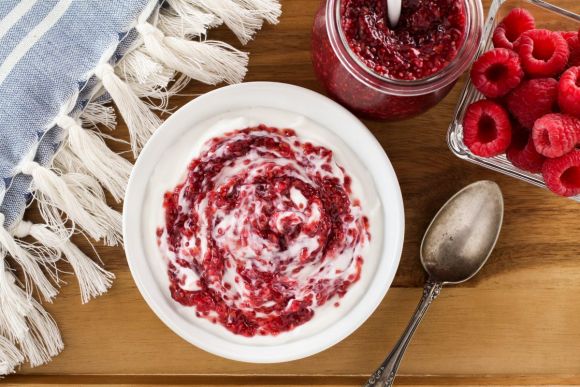 INGREDIENTS
0.5

pint

Raspberries

-

fresh,(or 6 ounces)

1

tablespoon

Lemon Juice

1

tablespoon

Lemon Zest

2.5

tablespoon

Pure Maple Syrup

1

tablespoon

Chia Seeds
INSTRUCTIONS
Add fruit, lemon juice, lemon zest, and maple syrup to a small saucepan and cook over medium-high heat. Cover. Stir occasionally until fruit begins to thicken, about 10 minutes.

Uncover and bring mixture to a boil until it develops a sauce-like consistency, about 5 minutes.

Stir in chia seeds and cook 2 more minutes. Stir again and then remove from heat.

Transfer jam to an airtight jar or other container and allow to cool, or refrigerate 2–3 hours before use. The jam will continue to thicken. Can be stored in refrigerator 2 weeks or frozen up to 2 months.
NOTES
This jam is delicious on a warm low-FODMAP and gluten-free scone, on low-FODMAP and gluten-free toast with butter, or mixed into a tub of lactose-free yogurt. Catch this recipe in Colleen Francioli's new book: The Everything® Low-FODMAP Diet Cookbook. Available from these booksellers: Amazon, Barnes & Noble, Target, Indiebound, GooglePlay and Walmart. Copyright © 2016 by F+W Media, Inc.
Photo by Kelly Jaggers.