Oven Cooked Shredded Chicken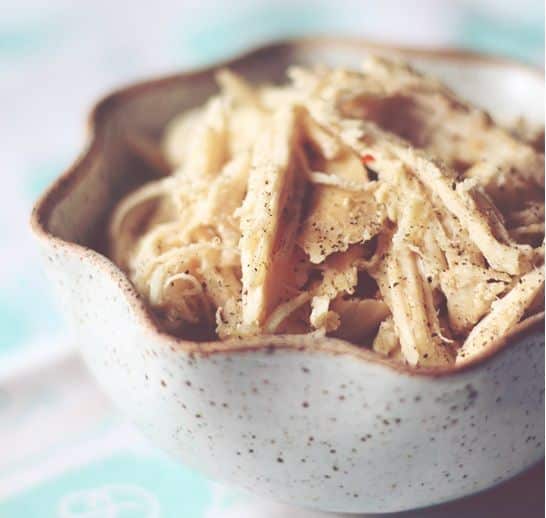 INGREDIENTS
4

pound

Boneless Skinless Chicken Breast

2

tablespoon

Coconut Oil

2

pinch

Asafoetida

-

gluten free

2

teaspoon

Smoked Paprika

2

teaspoon

Salt

0.5

teaspoon

Freshly Ground Black Pepper
INSTRUCTIONS
Heat the oven to 350°F. Remove the chicken from its packaging and pat it dry.

In a Dutch oven or heavy pot (with a lid) over medium heat add coconut oil and asafetida and sauté for 2-3 minutes (until you smell garlic and onion). Add the smoked paprika and stir. Add the chicken piece by piece, stirring to mix well with the spices. Stir in the salt and a few generous grinds of black pepper.

Turn off the heat and place dutch oven covered with lid into the oven. Bake until internal temperature has reached 165 degrees, about 30-35 minutes. Remove from oven and allow the chicken to rest 5-10 minutes. Then shred with two forks.
NOTES
We recommend Herb Stop gluten free asafoetida.You may replace bone broth with equal water. To freeze, place meat in individual freezer bags or containers and freeze until needed for recipes. Defrost and add to any recipes that call for cooked shredded chicken.