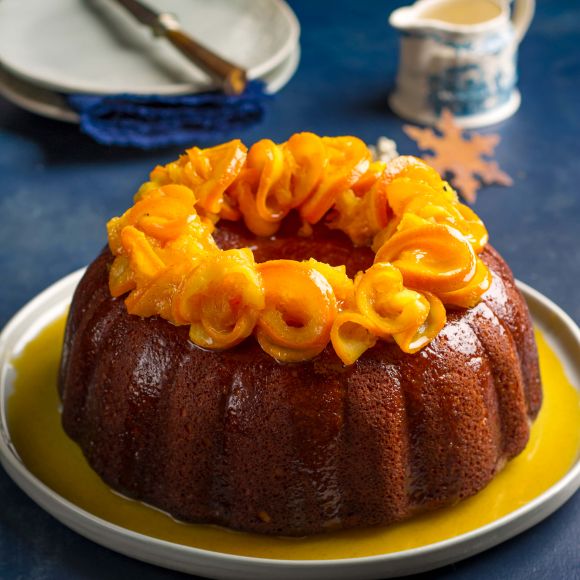 INGREDIENTS
4

Orange

-

washed

12

Egg

1

cup

Honey

18

ounce

Almond Meal

2

teaspoon

Baking Powder

Coconut Oil

-

to taste

3

Orange

-

thinly sliced

1

cup

Water

0.5

cup

Honey

1

Vanilla Bean

-

split
INSTRUCTIONS
Semi Restricted, Gluten Free, Dairy Free, Vegetarian

Place four oranges in a large pot, cover with water, and bring to a boil. Reduce heat and simmer for 2 hours. Keep an eye on the water level and top up as necessary. Drain, cool to room temperature, then purée the whole oranges in a blender or food processor until smooth.

Pre-heat the oven to 160C/320F. Grease a 27cm/11-inch bundt cake pan with coconut oil.

Beat the eggs and honey in a large bowl until well combined. Stir in the orange purée, followed by the almond meal and baking powder. Pour the batter into the prepared pan. Bake in the oven for 1 hour or until golden and a skewer inserted in the middle comes out clean. Cool in the tin for 15 minutes then flip out onto a wire rack to cool completely.

Thinly slice three oranges with a knife or mandolin. Place slices in a large saucepan with the water, honey, and vanilla bean. Bring to a boil, then reduce the heat and cook until the rinds have softened. Remove orange slices with a slotted spoon, reserving the syrup. Bring the syrup to a boil and cook until thickened.

When ready to serve, place the cake on a large platter. Top with the orange slices and drizzle with the syrup.