Mini Christmas Puddings With Warm Custard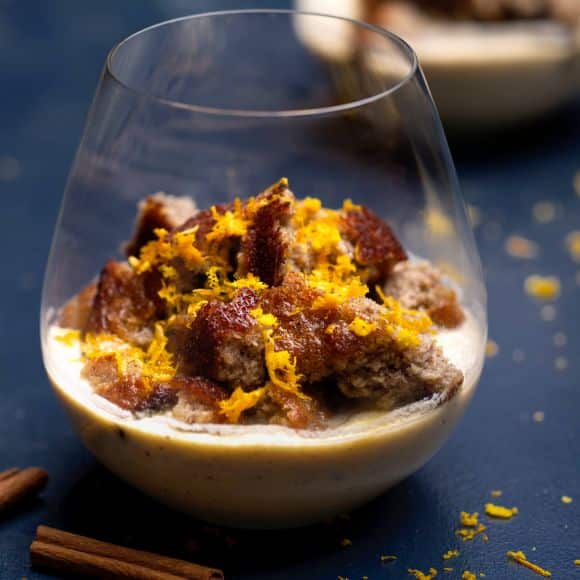 INGREDIENTS
4

Eggs

4

Egg Yolk

2

small

Banana

2

cup

Almond Milk

1.5

cup

Almond Meal

1

teaspoon

Vanilla Powder

2

tablespoon

Honey

2

tablespoon

Honey

3

tablespoon

Coconut Oil

-

plus extra for greasing

0.5

teaspoon

Cinnamon

0.5

teaspoon

Nutmeg

0.5

teaspoon

Fresh Ginger

0.5

teaspoon

Ground Mace

0.5

teaspoon

Baking Powder

0.5

teaspoon

Baking Soda

1

Orange Zest
INSTRUCTIONS
Pre-heat the oven to 180C/350F. Grease a 12-cup muffin pan with coconut oil. Set aside.

In a food processor, blend the eggs and bananas until combined. Add in the remaining ingredients and blend thoroughly. Pour batter into the muffin pan. Bake for 20-25 minutes or until firm. Remove from the oven and cool slightly.

To make the custard, in a saucepan, heat the almond milk, vanilla powder, and honey until just before it simmers. In a separate bowl, mix the egg yolks. Pour a small amount of almond milk into the yolks, beating thoroughly to prevent them from curdling. Slowly pour a steady stream of milk into the egg mixture until all combined. Return to a double boiler or heat proof bowl above steaming water and cook over a low heat until the custard thickens, stirring constantly.

To serve, divide the puddings into bowls and top with warm custard and orange zest.