Malaysian Shrimp And Chicken Laksa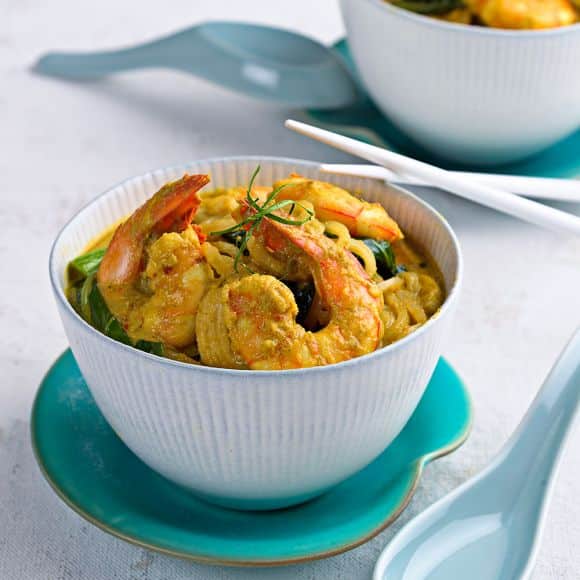 INGREDIENTS
2

cup

Rice Noodles

2

stalk

Fresh Lemongrass

-

chopped (white soft part only)

10

Macadamia Nuts

4

Cayenne Pepper

-

dried

1

tablespoon

Dried Shrimp

1

tablespoon

Belacan

2

teaspoon

Ground Coriander

1

inch

Ground Turmeric

-

fresh,grated

1

inch

Fresh Ginger

-

grated

1

inch

Galangal (Siamese Ginger)

-

fresh and grated

4

Kaffir Lime Leaves

0.5

bunch

Fresh Cilantro

12

Jumbo Shrimp

-

unpeeled,raw

4

tablespoon

Coconut Oil

5.25

cup

Bone Broth

1

cup

Coconut Milk

2

Chicken Thigh

2

Lime

0.13

teaspoon

Sea Salt
INSTRUCTIONS
Place the rice noodles in a big bowl and cover with lukewarm water. Set aside.

Make the Laksa Paste… place the lemon grass, macadamia nuts, dried shrimp, belacan, coriander, turmeric, ginger, galangal, kaffir lime leaves and ½ of the cilantro bunch (leaves and stems) in a food processor and blend until smooth. If the paste is too thick, add 1 tablespoon of water at a time until it blends thoroughly.

Make the Malaysian Shrimp… peel and devein the shrimp, leaving the tails intact. Keep the shells, heads, and legs. Refrigerate the shrimp until you are ready to cook them.

Heat a large wok over high heat. Add the coconut oil, then add the shrimp shells. Stir-fry for a few minutes until the shells are a deep pink color and aromatic. With a slotted spoon, remove the shells and discard. Pour the laksa paste into the wok.

Stir-fry for 2–3 minutes, stirring continuously so the paste doesn't stick and burn. This will release the beautiful aromas of the spices. If the paste is getting too dry, add more coconut oil.

Pour in the bone broth, coconut milk, and bring to a boil. Reduce the heat to medium. Add in the chicken pieces and cook for 3-4 minutes or until cooked through. Add the shrimp and cook for a further 1–2 minutes. Squeeze in the juice of 1 lime. Taste and season accordingly.

Drain the rice noodles from the water and add these to the laksa. Stir to mix thoroughly. Once the noodles are al dente, divide the soup between four large bowls. Serve sprinkled with fresh cilantro and lime wedges on the side.
NOTES
The dried shrimp, belacan, and galangal can be found in Asian supermarkets. Choose a brand that does not have water in it.
If your lemon grass is really woody, you can peel away the outer layers and then soak the stock in cold water for 15 minutes. This will soften it up.
We recommend Native Forest brand canned coconut milk, without thickeners or sweeteners.