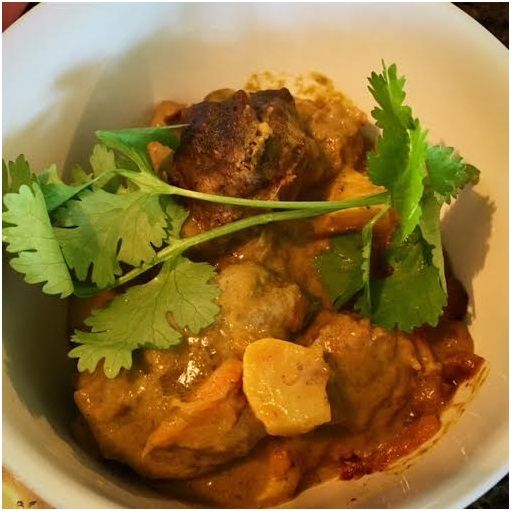 INGREDIENTS
3

Carrots

2

pound

Lamb Leg

1

teaspoon

Sea Salt

0.13

teaspoon

Pepper

2

tablespoon

Coconut Oil

1

medium

Sweet Potato

-

peeled and chopped into large pieces

0.5

cup

Bone Broth

-

+ 2 cups

1

teaspoon

Ground Turmeric

1

teaspoon

Cumin

3

tablespoon

Fresh Ginger

-

minced

1

can

Coconut Milk

0.33

cup

Dried Currants

0.25

cup

Fresh Cilantro

-

chopped

0.25

cup

Green Onion

-

green part only

2

Zucchini

1

Lime Juice
INSTRUCTIONS
Preheat oven to 350 F.

To make the curry, chop 2 carrots into large pieces and 1 carrot into small pieces

Cut lamb into smaller chunks 1-2 inch cubes. Season with 1 tsp salt and ⅛ tsp pepper. Heat a Dutch oven (or any oven safe pot with a lid) on the stovetop to high heat with 1 tablespoon coconut oil, and sear the seasoned lamb for about 10 minutes, turning over each piece every few minutes. Add chopped sweet potato, two of the chopped carrots, ½ cup broth, and cover with lid and place into the oven for 1 ½-2 hours.

Meanwhile, heat 1 tablespoon coconut oil in a medium sized saucepan over medium-high. Add turmeric, cumin, and minced ginger, and saute for a minute until fragrant. Add salt, coconut milk, remaining 2 cups broth, remaining chopped carrot, and currants. Boil until carrots and currants are tender, about 10 minutes. Remove from pot and blend well with cilantro and green onion, and set aside until the lamb is done roasting.

Chop zucchini into medium sized cubes. Once the lamb is tender, heat the stovetop to medium, add the prepared curry sauce to the dutch oven with the lamb, along with the zucchini and let simmer for about 20 minutes. Squeeze lime juice before serving, and garnish with any additional cilantro or green onion.
NOTES
We recommend using Native Forest brand unsweetened, no thickeners coconut milk. We also recommend using homemade bone broth that is free of high fodmap ingredient, such as garlic or onions.