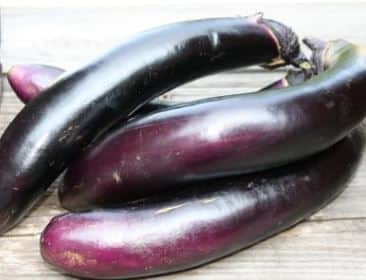 INGREDIENTS
3

Japanese Eggplant

1

tablespoon

Coconut Oil

2

tablespoon

Rice Vinegar

1.5

tablespoon

Tamari

1

tablespoon

Toasted Sesame Oil

1

teaspoon

Mirin

1

teaspoon

Maple Syrup

1.5

tablespoon

Fresh Ginger

-

grated

0.13

teaspoon

Red Pepper

-

crushed

0.13

teaspoon

Salt

0.13

teaspoon

Pepper

2

tablespoon

Green Onion

-

chopped

1

teaspoon

Toasted Sesame Seeds
INSTRUCTIONS
Preheat oven to 425 F.

To prepare the eggplants, remove the stems, and slice the eggplants lengthwise and diagonally into 1 inch pieces and set aside.

Melt coconut oil in the microwave for 10 seconds. Combine vinegar, tamari, toasted sesame oil, mirin, maple syrup, ginger, crushed red peppers, and melted coconut oil in a medium sized bowl with a whisk.

Toss sliced eggplants with the sauce, and spread over a parchment paper lined baking sheet evenly. Season eggplant with salt and pepper, then roast for 25-35 minutes or until eggplants is cooked. Garnish with green onion and toasted sesame seeds.
NOTES
The mirin is optional in this recipe, but does cook off in the process of cooking this dish. We recommend using Thai Kitchen brand fish sauce and tamari, or any gluten free brand.