GutRx Thai Coconut Chicken Soup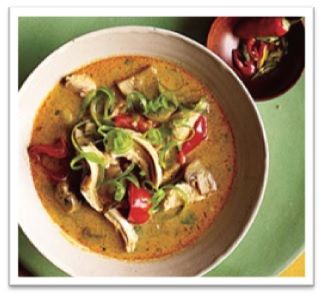 INGREDIENTS
1

tablespoon

Coconut Oil

1

Red Bell Pepper

-

chopped

4

teaspoon

Ginger Root

-

fresh,minced peeled

1

stalk

Fresh Lemon Grass

-

(3-inch),halved lengthwise

2

teaspoon

Red Chili Powder

-

(to taste)

3

cup

Bone Broth

10

ounce

Coconut Milk

-

canned,(unsweetened, no thickeners)

4

teaspoon

Fish Sauce

2

cup

Chicken Breast

-

shredded cooked (about 10 ounces)

0.5

cup

Green Onion

-

strips (green part only)

3

tablespoon

Fresh Cilantro

-

chopped

2

tablespoon

Fresh Lime Juice

0.75

tablespoon

Clover Honey

-

raw
INSTRUCTIONS
To make the soup, in medium sized soup pot, over medium heat, add coconut oil and bell pepper, ginger and lemon grass; cook 3 minutes, stirring occasionally. Add chili powder and cook 1 minute. Add chicken bone broth, coconut milk, fish sauce, and honey; bring to a simmer. Reduce heat to low; simmer for 10 minutes. Add chicken and cook 1 minute or until thoroughly heated. Discard lemongrass.

Garnish with cilantro, and a squeeze of lime juice.
NOTES
we recommend Thai Kitchen brand fish sauce. If you purchase another brand, make sure that it is not 'seasoned.'
Feel free to replace bone broth with equal amounts of water or low FODMAP broth.
Please see our Shredded Chicken recipe to make the shredded chicken for this recipe.
Feel free to adjust the red chili powder to taste. If you don't like heat ,you may omit this.
For more garlic flavor, add 1-2 small pinches of Gluten Free Asafoetida. Sauté 2-3 minutes, until you smell garlic and onion aroma. Then add the chicken.
Honey contains fructose. Northern latitude honey (clover, raspberry, alfalfa) contain a closer ratio of fructose to glucose than tropical honey (like the honey that Monash University tested and noted as a high fodmap food). Since northern latitude honey contains a closer ratio of fructose to glucose, this improves fructose absorption and we find that many people with fructose intolerance can enjoy a small amount of northern latitude honey. Please try this and see how you do (easy enough to test out in tea, like Rooibos tea).
Guest Guru Patsy Catsos recommends to her patients and readers, to not include honey. If you were referred to GutRxGurus by Patsy, please omit honey from this recipe. We're happy to make a suitable substitution suggestion. Feel free to post a question in the forum!