GutRx Sweet Barbeque Half The Time Whole Roasted Chicken With Roasted Vegetables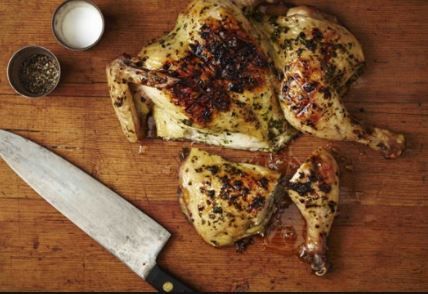 INGREDIENTS
4

pound

Whole Chicken

2

tablespoon

Clover Honey

0.25

teaspoon

Smoked Paprika

2

tablespoon

Pure Maple Syrup

0.5

tablespoon

Apple Cider Vinegar

0.5

tablespoon

Dijon Mustard

4

medium

Baby Red Potato

-

cut into 2" sections

3

medium

Zucchini

-

cut into 2" sections

12

medium

Carrots

-

cut into 2" sections

3

tablespoon

Coconut Oil

-

melted

1

teaspoon

Sea Salt

0.13

teaspoon

Ground Black Pepper

-

fresh

4

cup

Arugula

-

fresh
INSTRUCTIONS
Preheat oven to 450 degrees.

Prep and cut the vegetables and place them in a large bowl.

Whether you call it butter flying or the spatchcock method, this is simply one of the quickest ways to get a delicious roasted chicken in half the time.

Place chicken breast-side down, with the legs towards you. Using sturdy scissors or poultry shears, cut up along each side of the backbone to remove it (or use a really sharp knife; carefully!), cutting through the rib bones as you go. Open the chicken out and turn over and flatten it down. Pat dry with a paper towel.

To make your barbeque sauce… mix honey, smoked paprika, maple syrup, apple cider vinegar and Dijon mustard together. Using your hands, rub the barbeque sauce onto the chicken, getting into all the nooks and crannies. Use all of the barbeque sauce on the chicken (every last drop)!

Melt coconut oil in a small glass bowl on high for 20 seconds. Toss your vegetables with the coconut and sprinkle with a generous amount of sea salt and pepper.

Place the chicken in a roasting dish or a large oven proof skillet and surround with vegetables (it is okay, if these pile up a bit on the sides of the chicken) and roast for 45 minutes, or internal temperature reaches 160 degrees. Let stand 10-15 minutes.

To serve, place a small handful of arugula on each plate as a bed for the roasted vegetables and then serve with the chicken and ½ cup potato per serving.
NOTES
Honey contains fructose. Northern latitude honey (clover, raspberry, alfalfa) contain a closer ratio of fructose to glucose than tropical honey (like the honey that Monash University tested and noted as a high fodmap food). Since northern latitude honey contains a closer ratio of fructose to glucose, this improves fructose absorption and we find that many people with fructose intolerance can enjoy a small amount of northern latitude honey. Please try this and see how you do (easy enough to test out in tea, like Rooibos tea). Guest Guru Patsy Catsos recommends to her patients and readers, to not include honey. If you were referred to GutRxGurus by Patsy, please omit honey from this recipe. We're happy to make a suitable substitution suggestion. Feel free to post a question in the forum!