GutRx Root Vegetable Puree Beef Roast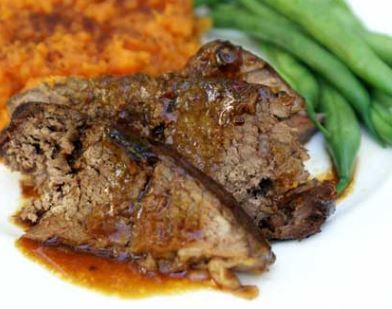 INGREDIENTS
1.5

pound

Beef Roast

2

Leek

-

sliced – green part only

1

cup

Beef Broth

-

beef bone broth

1

teaspoon

Salt

1

cup

Carrot

-

chopped

1.5

teaspoon

Dried Basil

2

tablespoon

Coconut Oil

0.5

cup

Beet

-

chopped

1

teaspoon

Dried Oregano

1

teaspoon

Dried Thyme

0.5

teaspoon

Fish Sauce

2

Lemon

1

medium

Sweet Potato

-

chopped
INSTRUCTIONS
Preheat oven to 350 F. Rub the beef roast with sea salt. Heat coconut oil in a medium sized Dutch oven on medium heat and brown the seasoned beef roast on all sides.

While meat is browning, heat a pot of water to a boil. Chop the sweet potato, carrots, and beets into bite sized pieces. Toss veggies into the boiling water and cook until tender, about 10 minutes.

Remove meat from dutch oven and set aside briefly, and remove root vegetables from boiling water. Place vegetables in a food processor with ½ cup broth, dried herbs, fish sauce, and lemon and blend until smooth.

Over medium low heat gently saute leek greens until fragrant, stirring occasionally. Add the beef roast back into the dutch oven and pour in the sauce, and remaining 1/2 cup bone broth. Roast for 2 1/2 hours.

To serve, plate the roast and drizzle generously with reduced pan drippings (the root vegetable puree and bone broth - give it a quick whisk before drizzling). If arrowroot works okay for you, consider thickening the sauce a bit with 1 T arrowroot, prior to serving.

This is nicely complimented by green beans and sweet potato mash.
NOTES
We recommend Red Boat Fish Sauce for this recipe.