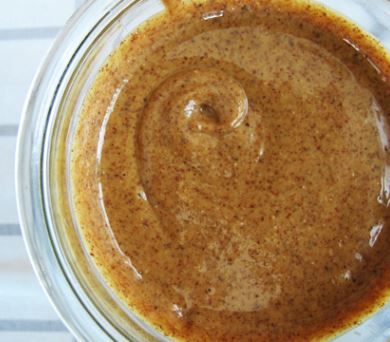 INGREDIENTS
2

cup

Raw Whole Almonds

1

tablespoon

Coconut Oil

-

melted

Sea Salt

-

to taste
INSTRUCTIONS
To make the almond butter, add the almonds and 1/2 tablespoon of oil to your food processor or high-speed blender. You can skip the oil if you are using a food processor, but I find that a little oil helps when making it in a blender.

If you are using a food processor (use the "S" blade), it'll take about 12 minutes. You'll have nut crumbs after about 4 minutes, thick and chunky nut butter(ish) by about 8 minutes and by 12 minutes; you'll have thick and smooth nut butter. You will have to stop the food processor every few minutes to scrape stuff stuck on the sides.

If you are using a Blendtec or Vita mix blender, use a low speed. Once the almonds become a fine powder and begin sticking to the sides of the jar, stop blending and scrape the mixture from the sides back into the blades. Resume your blend. Repeat as necessary. You will be stopping more frequently to scrape and stir the ingredients than you would in a food processor.

Make sure you don't blend for too long. If the machine is getting warm, turn it off and wait for it to cool down. This is especially important if you are using a lower end blender.

Homemade almond butter is highly perishable (because it's raw), so store it in a cool place out of direct sunlight and use it up within a week. We keep ours in the refrigerator.