GutRx Pesto Shrimp With Sweet Potato On A Bed Of Arugula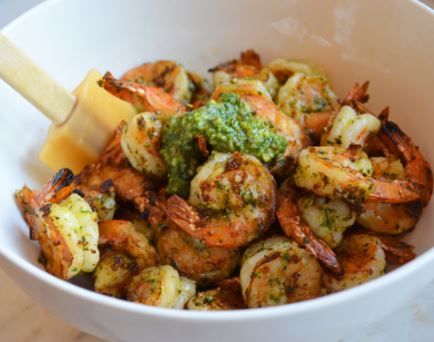 INGREDIENTS
2

medium

Sweet Potato

1

tablespoon

Coconut Oil

0.13

cup

Toasted Pine Nuts

1.5

cup

Fresh Basil Leaves

0.25

cup

Green Onion

-

green part only

0.25

cup

Olive Oil

0.5

teaspoon

Sea Salt

0.5

teaspoon

Freshly Ground Pepper

1

Lemon

-

juiced

2

pound

Shrimp

-

deshelled

4

cup

Arugula

-

washed

2

tablespoon

Olive Oil
INSTRUCTIONS
To make the sweet potato, preheat oven to 400 degrees. Cut the sweet potato in half, and then again in quarters. Get two sheets of foil. Lay the sweet potato chunks on foil, drizzle with 1 tablespoon coconut oil and then place the second sheet on top. Seal up the edges to create a sealed pack. Place on a small baking sheet (to catch any drips) and place in preheated oven. Bake for 20 minutes (or until potato is easily pierced through).

To make the pesto… blend pine nuts, basil, green onion, olive oil, pinch of sea salt, pepper and ¼ lemon juiced. Taste and adjust flavor with more salt, pepper and lemon, as needed.

To make the shrimp… heat a large skillet on medium high with coconut oil. Season shrimp with 1/8 teaspoon of salt, and sauté in coconut oil for about 3 minutes; cooked but still tender. Stir in 3 tablespoons of the Basil Walnut Pesto and cook for an additional 2-3 minutes. Remove the shrimp from heat, and stir in an additional 1 Tablespoon of pesto. Serve with fresh squeezed lemon juice and garnish with fresh basil leaves.

In a bowl, toss arugula with 2 Tablespoon olive oil. Divide among the plates. Top with pesto shrimp and a side of sweet potato (1/2 cup per plate). Drizzle extra pesto over sweet potato.
NOTES
We prefer to leave the skin on the sweet potato for the added fiber (even with skin included, this is still a low FODMAP food). If you prefer to chop and boil your potato to cook it, when you cook it you will create resistant starch. If you eat this cold, you will be eating resistant starch which will likely set off your symptoms. Always reheat potato (and rice) before eating. This breaks the bonds of the resistant starch.
You may replace the pine nuts with walnuts or macadamia nuts, or you may omit the nuts altogether.