GutRx Parchment Paper Lemon Halibut With Sweet Potato And Wilted Spinach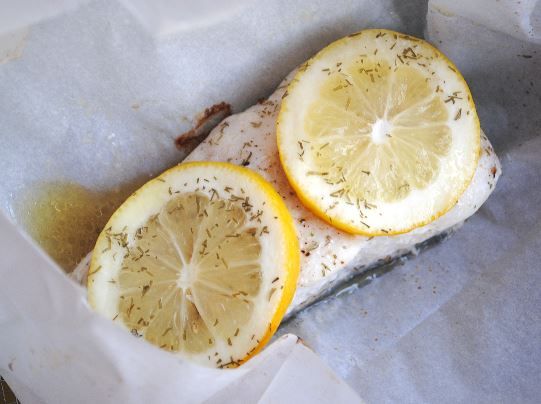 INGREDIENTS
2

medium

Sweet Potato

3

tablespoon

Olive Oil

4

Parchment Paper

-

(12 inch) square

4

Halibut Fillet

-

(5 ounce)

0.13

teaspoon

Sea Salt

0.13

teaspoon

Freshly Ground Pepper

2

Lemon

-

sliced into rounds

0.13

cup

Fresh Basil

-

chopped

2

cup

Fresh Spinach

2

cup

Arugula

-

fresh

1

tablespoon

Coconut Oil
INSTRUCTIONS
Preheat the oven to 425 degrees F

To make the sweet potato…cut the sweet potato in half, and then again into quarters. Get two sheets of foil. Lay the sweet potato chunks on foil, drizzle with 2 Tablespoons olive oil and then place the second sheet on top. Seal up the edges to create a sealed pack. Place on a large baking sheet (to catch any drips).

Get the parchment paper halibut ready; you will bake these on the same sheet.

To make the halibut… brush each piece of halibut on both sides with a light coating of olive oil. Fold your sheet of parchment in half and use scissors to round out the corners so that it is almost a circle. Open the sheet back up. Place the halibut fillet skin side down onto the center of the piece of parchment. Sprinkle with small pinch of salt and pepper.

Cover with three slices of lemon. Fold the piece of parchment up and over the fillet. Holding both edges of the parchment together, roll the edge down making several folds as you go until the fish fillets are tightly sealed in their packets. Place these packets on the large baking sheet with the potatoes.

Place in a preheated 425 degree oven. Bake the fish for 12 minutes if 1" thick or 14 minutes if 2" thick. When done remove from the oven and let rest for five minutes. Continue to bake the sweet potatoes for an additional five minutes. Let stand five minutes before opening packet. This method is near full proof!

Heat a small skillet over medium heat add the coconut oil. Gently wilt the basil, arugula, and spinach, sautéing for 1-2 minutes.
NOTES
make sure your oven is preheated before placing the fish in the oven. Bake for 12-14 minutes in the preheated oven. If you cook your fish longer it will be overcooked. When cooking halibut in parchment paper, you will know that it is done when it flakes easily.
We prefer to leave the skin on the sweet potato for the added fiber (even with skin included, this is still a low FODMAP food). If you prefer to chop and boil your potato to cook it, when you cook it you will create resistant starch. If you eat this cold, you will be eating resistant starch which will likely set off your symptoms. Always reheat potato (and rice) before eating. This breaks the bonds of the resistant starch.