GutRx Mini Pancakes With Kiwi Fruit And Coconut Yogurt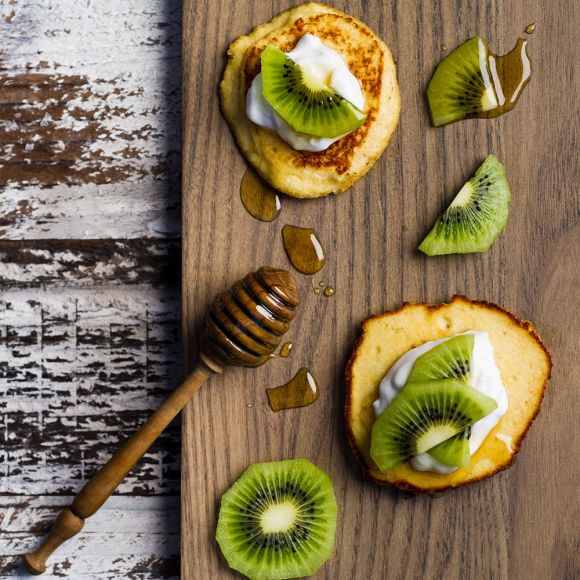 INGREDIENTS
2

Eggs

0.5

cup

Coconut Flour

0.75

cup

Unsweetened Almond Milk

1.5

tablespoon

Ghee

2

Kiwi

-

sliced

0.5

cup

Coconut Milk Yogurt

-

(see notes)

1

tablespoon

Clover Honey
INSTRUCTIONS
To make the pancakes, place the eggs, coconut flour, and almond milk in a blender and blend until well combined. If you do not have a blender, mix thoroughly with a whisk in a bowl.

Heat a large frying pan over medium heat. Melt 1 tablespoon of the ghee in the pan, then drop spoonfuls of batter into the pan. You may be able to get 4-6 mini pancakes in the pan, depending on the size of your pan. Cook for 2-3 minutes on one side and then flip to cook the other side.

When both sides are golden brown and the batter has cooked through, remove from the pan.

Repeat the process with the remaining ghee and batter until it has all been cooked.

Divide the pancakes over four plates and top with dollops of coconut yogurt and slices of kiwi fruit and a drizzle of clover honey. Enjoy immediately.
NOTES
If the mixture is too dry, add in some additional almond milk until you achieve a thick but runny consistency.
You may interchange equal portions of ghee, coconut oil, or butter (if lactose is tolerated).
Please see our Coconut Yogurt recipe or 24 Hour Yogurt.
Green Valley Yogurt makes a no lactose version, but it also has pectin in it.
Honey contains fructose. Northern latitude honey (clover, raspberry, alfalfa) contain a closer ratio of fructose to glucose than tropical honey (like the honey that Monash University tested and noted as a high fodmap food). Since northern latitude honey contains a closer ratio of fructose to glucose, this improves fructose absorption and we find that many people with fructose intolerance can enjoy a small amount of northern latitude honey. Please try this and see how you do (easy enough to test out in tea, like Rooibos tea). Guest Guru Patsy Catsos recommends to her patients and readers, to not include honey. If you were referred to GutRxGurus by Patsy, please omit honey from this recipe. We're happy to make a suitable substitution suggestion. Feel free to post a question in the forum!