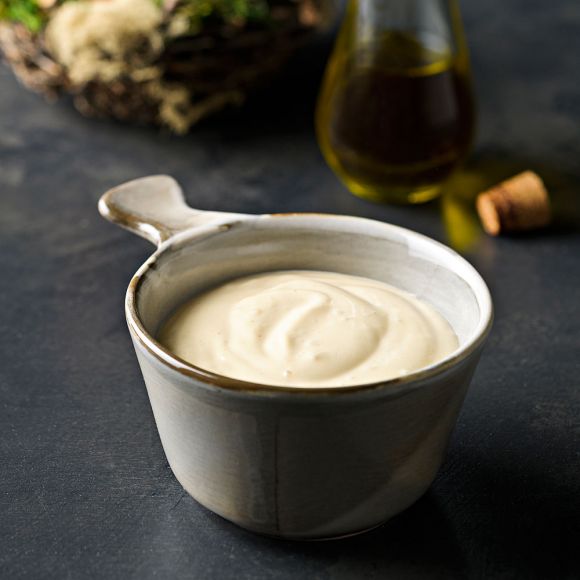 INGREDIENTS
2

Egg Yolk

-

room temperature

2

teaspoon

Dijon Mustard

-

free from sugar and nitrates

2

teaspoon

Lemon Juice

1

cup

Extra Light Olive Oil

0.13

teaspoon

Sea Salt

0.13

teaspoon

Freshly Ground Pepper
INSTRUCTIONS
Place the egg yolks in a blender. Give them a quick pulse so they are combined. Add in the Dijon mustard and lemon juice and pulse again.

The first 1/3 cup of oil is the most important part of incorporating it into the yolks. It is important to take your time here, otherwise the mixture might split.

Drop by drop, add in the oil, blending thoroughly between each addition. If your blender has a removable section in the lid, you can keep your motor running while you add the oil. However, pay attention to the heat generated by the motor as you don't want it cooking the eggs.

Once the first 1/3 cup of oil has been incorporated, you won't be at such a risk of separating the mixture and can start pouring it in a thin, steady stream. The mixture will thicken and start looking like mayonnaise.

Once all of the oil has been incorporated, add in 2 tablespoons of boiling water, blending quickly so it incorporates and doesn't cook part of the mixture. This, along with the lemon juice and mustard, will help keep the mixture stable. Taste and add salt and pepper as you like. You may also like to add in more lemon juice or mustard at this stage.

Remove the mayonnaise from the blender and store it in a sterilized jar. Check the expiration date of your eggs, as this will be the same expiration date of your mayonnaise. You may like to write this date on your jar to help you remember. Keep refrigerated.
NOTES
you can also try ½ cup extra- light olive oil and ½ cup macadamia oil (in place of 1 cup total extra- light olive oil.
For a light flavor, look for 'extra light olive oil' instead of extra virgin olive oil.
If you are using a food processor, take a look at the very bottom of the plastic tamper, there is a TINY little whole. This is how you add oil to the food processor when you want to emulsify something. Place the plastic tamper in the top shoot and then pour 1/3 oil inside the plastic tamper. This will drip out of the hole, into the processor and at a slow enough rate that your ingredients will emulsify. It is SO easy!!