GutRx Lamb Skewers With Mint Pesto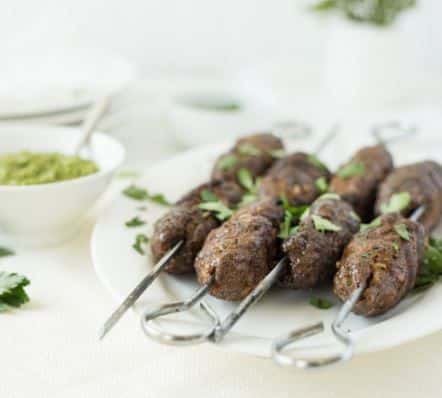 INGREDIENTS
1

package

Skewers

1.3

pound

Ground Lamb

0.75

teaspoon

Sea Salt

0.25

teaspoon

Cinnamon

0.5

teaspoon

Ground Turmeric

0.25

teaspoon

Ground Coriander

2

tablespoon

Green Onion

-

green part only, sliced

1

tablespoon

Coconut Oil

0.13

cup

Olive Oil

1

bunch

Fresh Mint

1

bunch

Fresh Basil

1

bunch

Green Onion

-

(green parts only)

1

Lemon

0.13

teaspoon

Fresh Pepper

-

ground
INSTRUCTIONS
Soak wooden skewers for at least 10 minutes.

Mix together ground lamb with cinnamon, turmeric, coriander, 2 tablespoon green onion, ½ tsp of sea salt and 1/8 cup fresh chopped mint. Shape into 8 meatballs. Let sit for 20 minutes to an hour in the fridge.

Preheat the oven to 350 F. Heat a stove top grill to medium high with coconut oil, and shape each meatball into a sausage shape onto each skewer using your hands. Season with more salt if desired, and grill evenly on each side for 5 minutes. Place in the oven on a foil lined sheet pan and bake for an additional 10-15 minutes.

To make the mint pesto…blend 1/8 cup olive oil with 1/8 cup fresh mint leaves, 3 green onions (green parts only) and 1 cup of basil with a fresh squeeze of lemon juice, and a pinch of sea salt and pepper to taste.

When served, garnish with fresh mint and chopped green onions.