GutRx Lamb Skewers With Jasmine Rice And Cilantro Pesto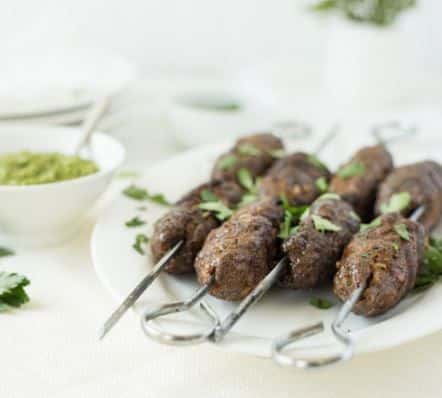 INGREDIENTS
1

package

Skewers

1

cup

Jasmine Rice

1.3

pound

Ground Lamb

0.25

teaspoon

Cinnamon

0.5

teaspoon

Ground Turmeric

0.25

teaspoon

Ground Coriander

2

tablespoon

Green Onion

-

green part only, sliced

0.13

cup

Olive Oil

1

bunch

Fresh Cilantro

1

bunch

Green Onion

-

(green parts only)

1

bunch

Fresh Basil

1

Lemon

0.75

teaspoon

Sea Salt

0.13

teaspoon

Fresh Pepper

-

ground
INSTRUCTIONS
Soak wooden skewers for at least 10 minutes.

To make the rice… cook jasmine rice according to package instructions.

Mix together ground lamb with cinnamon, turmeric, coriander, 2 tablespoons green onion, ½ tsp of sea salt and ¼ cup fresh cilantro. Shape into 8 meatballs. Let sit for 20 minutes to an hour in the fridge.

Preheat the oven to 350 F. Heat a stove top grill to medium high with coconut oil, and shape each meatball into a sausage shape onto each skewer using your hands. Season with more salt if desired, and grill evenly on each side for 5 minutes. Place in the oven on a foil lined sheet pan and bake for an additional 10-15 minutes.

To make the cilantro pesto…blend 1/8 cup olive oil with ½ cup fresh cilantro leaves, 3 green onions (green parts only) and 1 cup of basil with a fresh squeeze of lemon juice, and a pinch of sea salt and pepper to taste.

When served, garnish with fresh cilantro and chopped green onions (green parts only).
NOTES
To improve the digestibility of the jasmine rice, consider adding 50% more water and cooking an additional 10-12 minutes (until water is absorbed).
When you cook rice and then refrigerate it overnight, you will create resistant starch. If you eat this cold, you will be eating resistant starch which will likely set off your symptoms. Always reheat rice (and potato) before eating. This breaks the bonds of the resistant starch.
NO GRILL? If you don't have a stove top grill, you may grill these on a barbeque. Or broil on high for 3 minutes on each side, then bake for an additional 10-15 minutes, until internal temp of 160 degrees is reached.
PESTO: extra pesto will keep in the refrigerator for up to 5 days.