GutRx Jasmine Tea Brined Chicken With Nightshade-Free Salsa Verde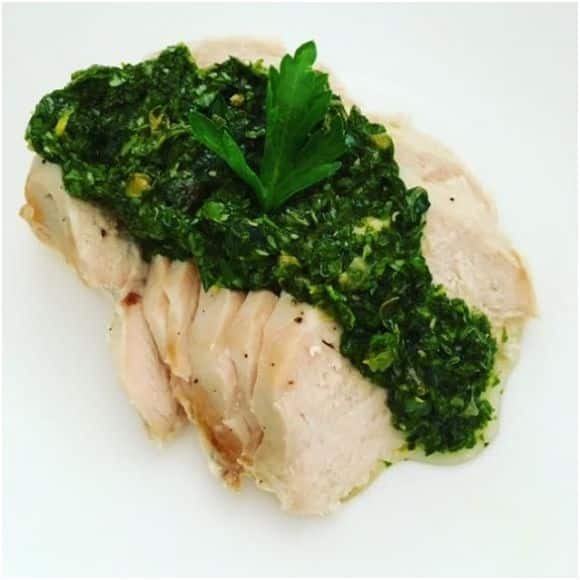 INGREDIENTS
1.5

quart

Boiling Water

3

Jasmine Tea

-

bags

1

Green Tea

-

bag

0.25

cup

Rock Salt

1

tablespoon

Maple Syrup

1.5

cup

Fresh Italian Parsley

2

Boneless Chicken Breast

1

cup

Fresh Cilantro

1

cup

Fresh Mint

1

Lemon

-

zested

0.5

cup

Olive Oil

1

tablespoon

Capers

2

tablespoon

Lemon Juice

1

Lemon

-

sliced
INSTRUCTIONS
To make the Jasmine tea brine… Put the tea bags in a large heat friendly pot, and pour boiling water over. After 10 minutes, remove tea bags. Add salt and maple syrup, and let cool.

To make the Nightshade-Free Salsa Verde…. Instructions: Hand pick 1 cup Italian parsley, cilantro, and mint leaves off of stems and measure out a cup each. Roughly chop up the leaves on a cutting board and combine into a small bowl. Zest and juice lemon into the bowl, along with olive oil. Roughly chop the capers, transfer to bowl, and mix.

Prepare the chicken… remove the skin if necessary, and let the chicken breasts brine in the Jasmine tea brine liquid 4 hours. Rinse off brine, pat dry, and preheat oven to 400 F.

Surround breasts with ½ cup Italian parsley, and sliced lemon on a small baking sheet, then cover with greased parchment paper. Bake for 20-30 minutes.

To serve… slice chicken, and serve with 2 tablespoons Nightshade-Free Salsa Verde per serving.