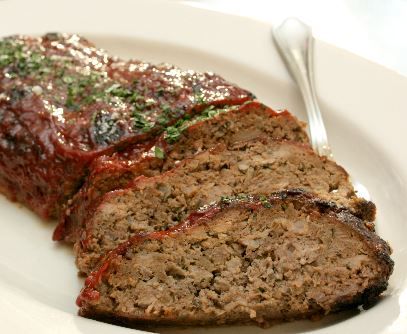 INGREDIENTS
1

pound

Ground Sirloin

-

burger

0.5

pound

Ground Pork

0.5

cup

Polenta

2

Eggs

-

slightly beaten

2

tablespoon

Fresh Basil

2

tablespoon

Fresh Thyme

2

tablespoon

Oregano

1

teaspoon

Sea Salt

1

teaspoon

Black Pepper

0.75

teaspoon

Worcestershire Sauce

6

ounce

Parmesan Cheese

0.25

cup

Bone Broth

0.13

cup

Fresh Parsley

-

chopped

8

ounce

Fire-Roasted Tomatoes

-

canned,muir glen
INSTRUCTIONS
Preheat oven to 350 degrees

In a large bowl combine the beef, pork, polenta, eggs, basil, thyme, oregano, salt, pepper, Worcestershire sauce, parmesan cheese, bone broth, and parsley.

Divide into two greased loaf pans and top each with ½ cup of fire roasted tomatoes. Place the loaf pans on a sheet pan and bake for 45-50 minutes until done.
NOTES
To make an egg free version, you can simply omit the eggs here. The polenta and cheese will act as binders. You may replace the polenta with ¾ cup gluten bread crumbs. We recommend Ancient Harvest Quinoa Polenta for this recipe.
You may replace with the bone broth with an equal amount of lactose free milk or with an equal amount of canned tomato sauce.
We highly recommend purchasing freshly ground sirloin from your butcher. To do this, pick a 2 pound sirloin steak out of the case and have your butcher grind this on the spot for you.