GutRx Half The Time Whole Roasted Chicken With Quinoa And Roasted Vegetables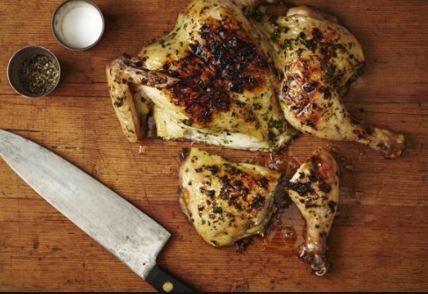 INGREDIENTS
4

pound

Whole Chicken

5

tablespoon

Coconut Oil

-

melted

4

teaspoon

Dijon Mustard

4

teaspoon

Fresh Tarragon

-

minced

0.5

teaspoon

Sea Salt

0.5

teaspoon

Ground Black Pepper

-

fresh

3

medium

Zucchini

-

cut into 2" sections

12

medium

Carrots

-

cut into 2" sections

1

cup

Quinoa

-

light tan version

4

cup

Arugula
INSTRUCTIONS
Prep and cut the vegetables and place them in a large bowl.

Melt coconut oil in a small glass bowl on high for 20 seconds. Mix in dijon, tarragon, 1/8 teaspoon each salt and pepper. Set aside.

Whether you call it butterflying or the spatchcock method, this simply one of the quickest ways to get a delicious roasted chicken in half the time.

Place chicken breast-side down, with the legs towards you. Using sturdy scissors or poultry shears, cut up along each side of the backbone to remove it (or use a really sharp knife; carefully!), cutting through the rib bones as you go. Open the chicken out and turn over and flatten it down.

Pat dry with a paper towel. Using your hands, take about half of your melted coconut and herb mixture and rub into all nooks and crannies.

Using your hands, toss your vegetables with the remaining half of the coconut and herb mixture.

Place the chicken in a roasting dish or a large oven proof skillet and surround with vegetables (it is okay, if these pile up a bit on the sides of the chicken) and roast for 45 minutes, or internal temperature reaches 160 degrees. Let stand 10-15 minutes.

While the chicken is standing, make the quinoa… cook quinoa rice according to package instructions.

To serve, place a small handful of arugula on each plate as a bed for the roasted vegetables and then serve with the chicken and ½ cup quinoa.
NOTES
We recommend using only the light tan version of quinoa (the red, black and multicolor quinoa are harder to digest). To improve the digestibility of the quinoa, consider adding 50-100% more water and cooking an additional 20 minutes (until all the water is absorbed). If you choose to cook your quinoa longer, you will start the quinoa at the half way point of the chicken roasting. Once it is done cooking, simply remove the quinoa from the heat and let it sit with a cover on until you are ready to eat.