GutRx Grilled Chicken Satay Skewers With Peanut Sauce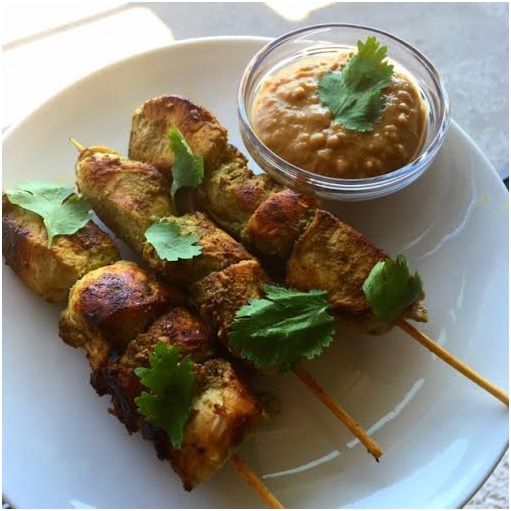 INGREDIENTS
3

large

Chicken Breast

0.5

cup

Fresh Cilantro

-

stems + leaves,chopped

0.25

cup

Green Onion

3

Lime

1

teaspoon

Salt

1

tablespoon

Coconut Oil

1

tablespoon

Toasted Sesame Oil

1

tablespoon

Ground Cumin

1

tablespoon

Ground Coriander

0.5

cup

Peanut Butter

0.5

cup

Coconut Milk

-

canned

1

tablespoon

Tamari

2

tablespoon

Fresh Lime Juice

1

tablespoon

Maple Syrup
INSTRUCTIONS
To make the chicken skewers, cut chicken breasts into 1 inch cubes.

Blend together cilantro, green onion, and juice of one lime. Salt the chicken, and cover with the blended mixture, making sure that each piece is covered. Let the chicken marinate in the fridge for 1 hour.

Meanwhile, let about 12 wooden skewers soak in water for at least 10 minutes and start the peanut sauce.

To make the peanut sauce, blend together the sesame oil, cumin, coriander, peanut butter, coconut milk, tamari, lime juice and maple syrup. Place covered in the refrigerator.

When the chicken is done marinating, and the skewers are done soaking, stick 3-4 pieces of chicken on each skewer. Heat a stove top grill or a large skillet on high heat, with coconut oil. Cook chicken on each side, for about 10-15 minutes total, or until chicken is fully cooked.

Serve hot with lime wedges and 3 tablespoons of the Peanut Sauce.