GutRx Garlic Infused Rice Bran Oil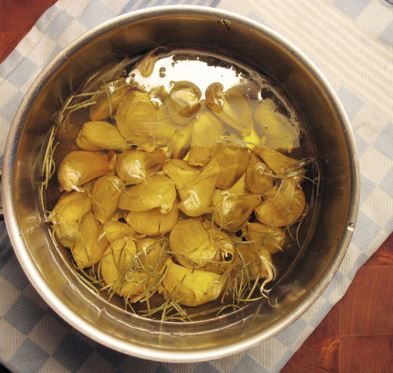 INGREDIENTS
6

Garlic Clove

-

peeled

1

cup

Oil

-

rice bran oil

1

tablespoon

Dried Thyme
INSTRUCTIONS
To make the infused rice bran oil, in a small saucepan, bring the garlic and dried thyme and oil to a simmer, then turn the heat to LOW (below simmer) and cook for 5-10 minutes, until the garlic is lightly browned but not burnt. Turn off the heat and set aside. The garlic will continue to cook.

With a slotted spoon, carefully remove the garlic from the oil and slice them (I don't hold them when I do this. Since they are already peeled, I simply rock my knife back and forth over the top of them). Place them in a bowl and pour the oil over them. Cover and allow to sit for 30 minutes. The oil should be cooler at this point. Strain with a fine mesh strainer into a sterilized jelly jar, leaving at least an inch of room at the top for freezer expansion. Wipe off the top, and seal them (I like to use two small jars) with the lids and rings. Place into freezer.

When you need oil, simply pull the jar from the freezer and use what you need.