GutRx Dry Roasted Curry Powder Blend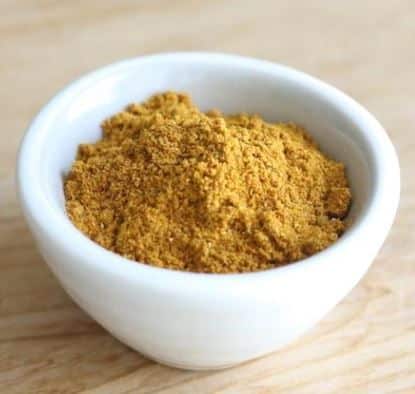 INGREDIENTS
2

teaspoon

Whole Coriander Seeds

1

teaspoon

Mustard Seed

0.5

teaspoon

Cumin Seed

1

teaspoon

Ground Turmeric

-

powder

1

teaspoon

Chili

-

powder

0.5

teaspoon

Cayenne Pepper

-

powder

0.25

teaspoon

Ground Cardamom (Cardamon)

-

seed
INSTRUCTIONS
In a small skillet, dry toast all the seeds together over medium heat, until they are a darker shade of brown and fragrant. Please watch these carefully and do not allow the seeds to turn too dark (or get burnt). Immediately remove from heat and allow cooling.

The roasted seed mixture may be stored in a sealed container for up to three months.

It is best to freshly grind roasted spice seeds right at the time you will use them in a recipe. This will give your recipe the biggest pop of flavor.

When you are ready to use this curry blend, grind the seeds in a dry coffee grinder (that you use exclusively to grind spices) and mix with the remaining powders.
NOTES
this mixture beautifully pairs with chicken, lamb, white fish … okay, it pairs with everything.