GutRx Curry Steak Stir Fry With Jasmine Rice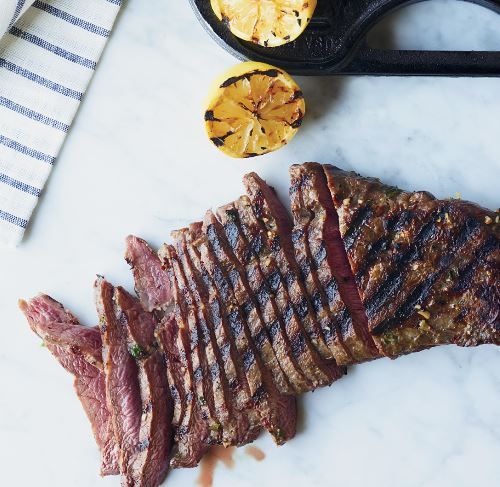 INGREDIENTS
1.25

pound

Flat Iron Steak

3

tablespoon

Coconut Oil

3

tablespoon

Arrowroot

1

bunch

Green Onion

-

diced (green part only)

5

medium

Carrots

-

chopped

1

can

Water Chestnuts

-

drained, chopped

4

medium

Bok Choy

-

chopped

0.5

cup

Coconut Milk

-

canned

2

tablespoon

Curry Powder

1

tablespoon

Ginger Root

-

fresh

1

cup

Jasmine Rice
INSTRUCTIONS
To make the rice… cook jasmine rice according to package instructions. When it is done, remove from heat, keep lid on and set aside until you are ready to eat. *You can add a button or two of fresh ginger root to the rice while it cooks, to make it fragrant.

Cut the steak against the grain, into 3" by 1/2" thick strips.

Heat a large skillet over medium high heat and add 2 tablespoons of coconut oil. Dredge the steak strips through the arrowroot flour (this helps the steak brown while sautéing) and then add to the pan. Do not keep the steak moving. If you want it to brown, let it cook, flipping only once or twice at the most. Cook for 4-5 minutes total so it is still pink in the middle. Remove to a plate and set aside.

In the same pan, add 1 more tablespoon of coconut oil and sauté all the vegetables for 3-4 minutes, until they start to soften.

Do not shake the can of coconut. Gently open the can and use as much of the cream from the top as you can. Add the coconut cream and some of the coconut milk (1/2 cup total) to the skillet with the curry powder and fresh ginger root. Bring to a boil, then reduce to a simmer for 2-3 more minutes. The vegetables should be easy to pierce now. Add the steak back in and cook for an additional minute.
NOTES
You may replace the arrow root with gluten free corn starch or omit altogether.
To improve the digestibility of the jasmine rice, consider adding 50% more water and cooking an additional 10-12 minutes (until water is absorbed).
When you cook rice and then refrigerate it overnight, you will create resistant starch. If you eat this cold, you will be eating resistant starch which will likely set off your symptoms. Always reheat rice (and potato) before eating. This breaks the bonds of the resistant starch.
We recommend Native Forest brand canned coconut oil, without thickeners or sweeteners.