GutRx Crispy Salt And Pepper Calamari Salad With Lime Aioli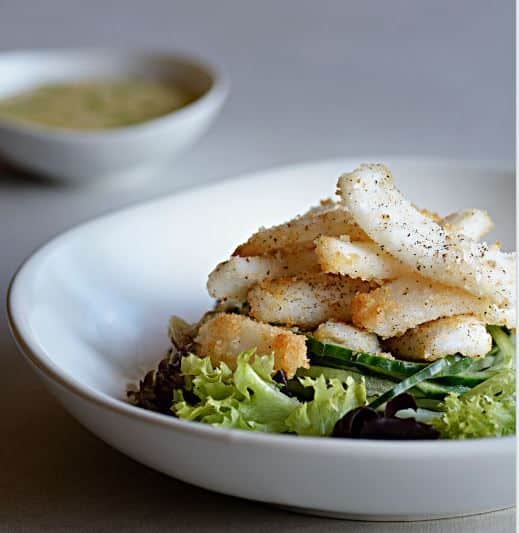 INGREDIENTS
0.5

cup

Coconut Flour

1.25

teaspoon

Salt

1

teaspoon

Pepper

1

Lime

2

handful

Mixed Salad Greens

0.5

Cucumber

-

sliced

2

Green Onion

-

sliced (green part only)

1

tablespoon

Macadamia Nuts

-

oil

4

tablespoon

Mayonnaise

4

tablespoon

Coconut Oil

2

Calamari

-

cleaned, cut into strips
INSTRUCTIONS
Place the coconut flour, 1/2 tsp of salt, and tsp pepper in a large bowl and mix to combine. Toss in the calamari strips and stir until coated thoroughly. Shake to remove excess flour and set aside.

Juice and zest the lime. In a large bowl, mix the salad leaves, cucumber and green onions. Set aside.

To make the salad dressing…in a small bowl, mix together the macadamia nut oil, 1 tablespoon lime juice and a small pinch of salt and pepper. Set aside.

In another small bowl, mix together all of the lime aioli ingredients: mayonnaise, ½ tsp lime zest and

1.5 teaspoons lime juice. Set aside.

Heat a deep skillet to medium-high heat. Once hot, add in the coconut oil and melt, allowing the pan to return to temperature. To test if the oil is hot enough for shallow frying, use tongs to dip a corner of one piece of calamari into the oil. If it sizzles, it is ready.

Place the calamari in the oil, being careful not to overcrowd the pan. You may need to cook it in two batches. The oil may splatter, so be careful and use a splatter guard if you have one. Cook the calamari quickly for 1 minute on each side until golden brown. Remove and drain on paper towel. Repeat until all calamari has been cooked.

To serve… pour the dressing over the salad and mix thoroughly. Serve on two plates, topping with the calamari and a drizzle of aioli.
NOTES
Mayonnaise is a low FODMAP food. Also consider making our homemade version!