GutRx Chunky Roast Squash And Macadamia Dip With Fresh Vegetables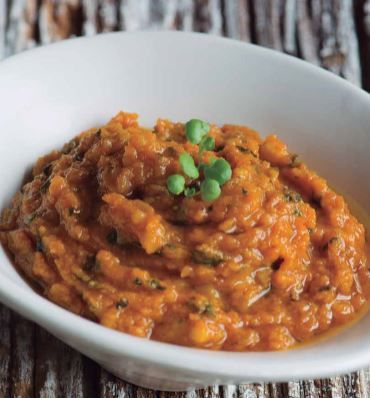 INGREDIENTS
1

cup

Acorn Squash

-

cubed

0.25

cup

Fresh Basil

-

leaves picked

0.5

cup

Macadamia Nuts

-

toasted

2

tablespoon

Olive Oil

0.5

Lemon

-

zest and juice

0.5

teaspoon

Smoked Paprika

-

ground

0.13

teaspoon

Sea Salt

0.13

teaspoon

Cracked Black Pepper

-

fresh

1

cup

Carrots

-

cut into sticks

1

cup

Cherry Tomato

0.5

cup

Red Bell Pepper

1

Cucumber

-

sliced
INSTRUCTIONS
Heat the oven to 340ºF.

Cut squash into chunks, leaving the skin on. Roast for about 30 minutes until completely soft. Allow to cool, peel off skin, and drain off any excess liquid.

In a food processor, blend the basil leaves to a paste, then add the macadamia nuts, olive oil, and lemon zest. This can be left slightly chunky, but blend until the larger pieces are broken down.

Add the roasted squash pieces, lemon juice, paprika, and a pinch of salt and pepper. Pulse until combined (this won't take long), then taste and adjust seasoning if necessary.

Serve with a selection of fresh vegetable sticks for dipping: cherry tomatoes, carrots, red/green pepper, and cucumber.

This is also tasty with radish, endive and radicchio.