GutRx Celeriac Beef Muffins With Sweet Potato And Watercress Salad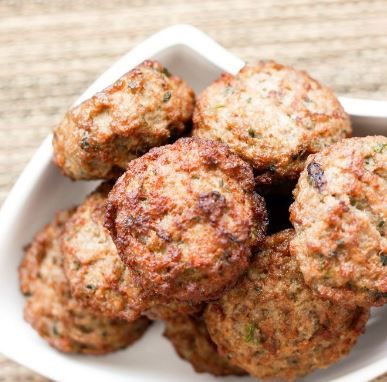 INGREDIENTS
1

large

Celeriac

-

root

4

tablespoon

Coconut Oil

2

medium

Sweet Potato

1.5

pound

Ground Beef

0.5

cup

Bread Crumbs

-

gluten free

1

Egg

0.25

cup

Olive Oil

-

garlic infused

0.5

cup

Chinese (Garlic) Chives

-

diced (green parts only)

2

tablespoon

Dijon Mustard

2

tablespoon

Italian Seasoning

-

herb

0.5

teaspoon

Smoked Paprika

4

cup

Watercress

2

tablespoon

Extra Virgin Olive Oil

1

tablespoon

Champagne Vinegar

0.5

teaspoon

Sea Salt

0.5

teaspoon

Freshly Ground Pepper
INSTRUCTIONS
Preheat the oven to 450 degrees. Line a large baking sheet with parchment paper.

To peel celeriac, slice each end off so you have a flat place to sit it firmly on the cutting board. Slice the peel off in long strokes with the knife, from the top to the bottom. Chop the celeriac into small ¼ inch chunks. Toss with 2 tablespoons of melted coconut oil. Turn out on the parchment paper lined baking sheet (leave room to place the sweet potato packet).

To make the sweet potato…cut the sweet potato in half, and then again into 2" squares. Get two sheets of foil. Lay the sweet potato chunks on foil, drizzle with 2 tablespoons olive oil and then place the second sheet on top. Seal up the edges to create a sealed pack. Place next to the celeriac on the baking sheet.

Bake for 15 minutes, until celeriac is easily pierced and slightly golden brown. Remove the baking sheet. Place the sweet potato packet back on the rack and continue to cook for 10 more minutes until is easily pierced with a fork.

While the potatoes are cooking, make the patties…mix ground beef, roasted celeriac, GF bread crumbs, eggs, chives, garlic infused olive oil, mustard, Italian herb mixture, paprika and a generous pinch of sea salt and pepper together with your hands.

Heat a large skillet over medium high heat and add 2 tablespoons coconut oil. Form patties with your hand and pan fry for 5-7 minutes on each side, until internal temperature reads 165 degrees. Set aside.

In the same pan, turn the heat down to medium and gently wilt the watercress, sautéing for 1-2 minutes. Combine the olive oil, champagne vinegar, sea salt and pepper and drizzle over the wilted. watercress.

To serve: Divide the sautéed greens among the plates, topping each with ½ cup sweet potato.
NOTES
we prefer to leave the skin on the sweet potato for the added fiber (even with skin included, this is still a low FODMAP food). If you prefer to chop and boil your potato to cook it, when you cook it you will create resistant starch. If you eat this cold, you will be eating resistant starch which will likely set off your symptoms. Always reheat potato (and rice) before eating. This breaks the bonds of the resistant starch.
Need an egg replacement? *this is equivalent to one egg, so adjust per the number of eggs that the recipe is calling for: Wisk 1 tablespoon of ground flax seed (measured after grinding) with 3 tablespoons of water. Set in the frig for 15 minutes. This should make a sticky thick mixture. Add into the recipe where the egg is called for.