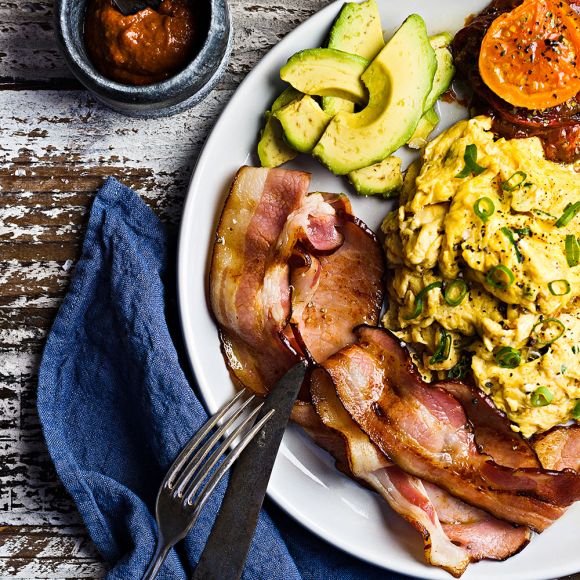 INGREDIENTS
10

Roma Tomato

-

quartered

2

Red Pepper

-

seeds removed, quartered

1

teaspoon

Salt

1

teaspoon

Pepper

4

tablespoon

Olive Oil

2

tablespoon

Tomato Paste

0.5

bunch

Fresh Basil

-

chopped

2

Tomatoes

-

halved

1

teaspoon

Olive Oil

0.5

teaspoon

Dried Oregano

0.13

teaspoon

Sea Salt

0.13

teaspoon

Freshly Ground Black Pepper

1

teaspoon

Coconut Oil

4

strip

Bacon

5

Egg

2

Green Onion

-

sliced (green part only)

0.5

Avocado

-

sliced

1

Leek

-

quartered (green parts only)
INSTRUCTIONS
Preheat the oven to 400ºF.

Make the Roasted Tomato and Red Pepper Sauce… place the Roma tomatoes, red peppers, leek in a large roasting pan. Mix with 4 tablespoons of olive oil, and 1 teaspoon each of salt and pepper. Place in the oven and roast for 1 ½-2 hours, or until all of the vegetables are soft and roasted. Remove from the oven and cool slightly.

Place the roasted vegetables, tomato paste, and basil into a blender and blend until combined and any lumps have been removed.

Pour the sauce into a large, sterilized jar. Tip upside down to form a seal and then cool.

The sauce will keep in the fridge unopened for several months. Once opened, consume within a few days.

Preheat the broiler to low.

Cut the beefcake tomatoes in half. Place on a roasting pan, then drizzle with olive oil and sprinkle with the dried oregano, salt, and pepper. Place under the broiler and cook until the tomatoes have softened and are heated through. Be careful not to burn the tops.

Meanwhile, heat the coconut oil in a large frying pan over medium-high heat. Add the bacon and cook for 2-3 minutes on each side or until cooked to your liking. Remove from the pan and set aside.

Break the eggs into a bowl and beat until well combined. Add the green onions, and a pinch of salt and pepper.

Return the frying pan to the heat. Once hot, add the eggs into the bacon fat. Cover the base of the pan with the eggs, let them sit until they start to set, then stir them around to create scrambled eggs. Remove from the pan once they are just cooked through.

To serve, divide the eggs, bacon, tomatoes, and avocado slices over two large plates. Serve with a dollop of warmed roasted tomato and red pepper sauce on the side.