GutRx Aussie-Style Burger With The Works And A Side Of Carrot Fries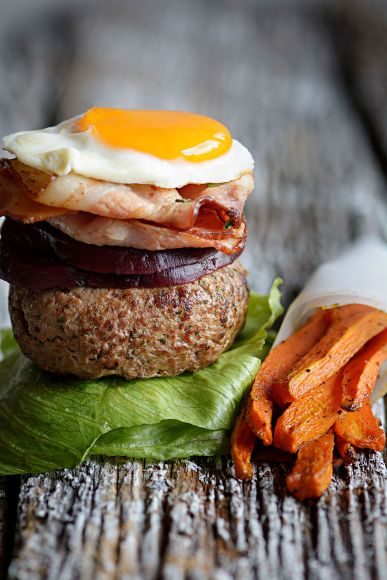 INGREDIENTS
1

Beet

-

whole,cleaned

2

Carrot

-

peeled cut into sticks

2

tablespoon

Coconut Oil

10

ounce

Ground Beef

3

Egg

1

teaspoon

Dried Parsley

1

teaspoon

Dried Oregano

0.5

teaspoon

Salt

4

Bacon

4

leaf

Iceberg Lettuce

-

washed

0.13

teaspoon

Sea Salt

0.13

teaspoon

Ground Black Pepper

0.13

teaspoon

Mustard

0.5

teaspoon

Black Pepper
INSTRUCTIONS
Preheat the oven to 400ºF.

Wrap the washed, unpeeled, whole beet in foil. Place in the oven to cook for 1 hour. To check if it is cooked through, remove from the oven and pierce with a fork or small knife.If it goes into the flesh easily, it is cooked. Remove from the oven and allow to cool. The beet may release some juices while cooking and cooling, so it's best to place something underneath it to prevent staining.

Once cool enough to handle, unwrap the foil and discard. The skin from the beet will come away easily now. Peel off all of the skin and then slice into thick slices. Set aside.

Place the carrot sticks in a bowl. Melt 1 tablespoon of coconut oil and pour over the carrots. Sprinkle with a pinch of salt and pepper and mix to combine. Cover a baking sheet with parchment paper, spread the carrots out evenly on the sheet, and cook for 30–45 minutes, or until cooked and slightly crispy.

Meanwhile, place the ground beef, 1 egg, parsley, oregano, ½ tsp of salt, and ½ tsp of pepper in a large bowl. Using your hands, mix until thoroughly combined and the mixture has come together. Form into 2 large patties. Place in the fridge for 30 minutes to firm.

Heat a non-stick pan over medium heat. Melt 1 tablespoon of coconut oil, then add the patties to the pan. Cook the patties to your liking. Remove from the pan.

In the same pan, add the bacon and cook to your liking. Remove from the heat.

To serve… place 2 lettuce leaves on a plate. Top with the burger, 2 slices of beet, 2 strips of bacon, and 1 fried egg. Serve with the carrot fries and mustard.