GutRx 20 Minute Steak With Carrots And Polenta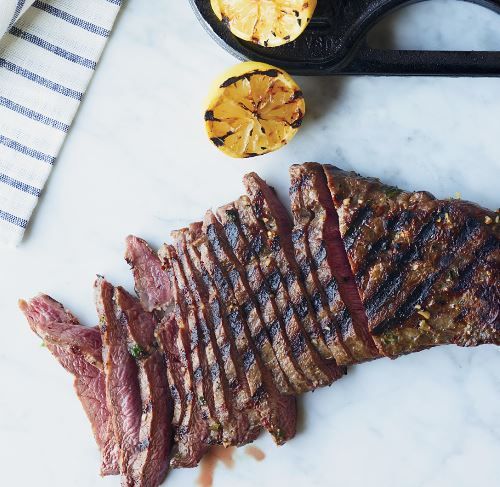 INGREDIENTS
1.25

pound

Flat Iron Steak

4

tablespoon

Worcestershire Sauce

24

ounce

Polenta

-

(see tips)

3.5

tablespoon

Coconut Oil

12

medium

Carrots

-

washed sliced

0.25

teaspoon

Sea Salt

0.25

tablespoon

Freshly Ground Pepper
INSTRUCTIONS
Preheat oven to 350 degrees. Cover a baking sheet with parchment paper.

To cook the steak… place oven rack on the second slot from the top and turn broiler on high for electric ranges and low for gas ranges. Line a small baking sheet with foil, lay steak on the baking sheet and coat with Worcestershire sauce and sprinkle a pinch of sea salt and fresh ground pepper on each side. Broil for 6-7 minutes on each side (this should result in pink middle; cook to your liking).

To make the polenta...One 24 oz fresh and ready to eat tube of polenta makes four servings. Carefully cut the plastic off the tube, keeping the integrity of the shape (you won't be mashing this). Slice the polenta into medallions, so you end up with 8 round medallions (2 per serving). Place the medallions in a single layer on the parchment lined baking sheet. Melt 1 1/2 tablespoons coconut in the a glass prep dish in the microwave and then coat each medallion with coconut oil. Place on a small baking tray and set next to steak in the oven. Broil for 3-4 minutes on each side, or until slightly golden brown (please watch this closely).

To make the carrots… in a small skillet, heat 2 tablespoons over medium high heat and saute the carrots until tender. Season with salt and pepper to your liking.
NOTES
We recommend a tube of fresh and ready to eat Ancient Harvest, San Gennaro Traditional Corn Polenta. You will find this in the deli section of most supermarkets.
*if you only have on large baking sheet, make a little tray with foil, by turning up each side and pinching it together. You can do the same for the polenta and broil them side by side on one pan.