GutRx 15 Minute Pesto Chicken With Bok Choy And Quinoa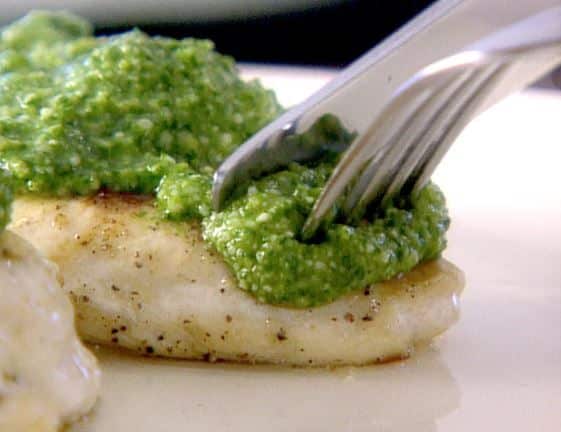 INGREDIENTS
1

cup

Quinoa

-

light tan version

0.33

cup

Raw Macadamia Nuts

-

(soaked for 20 minutes, drained & rinsed)

0.25

cup

Pine Nuts

-

roasted

1

cup

Basil Leaf

-

(lightly packed)

3

tablespoon

Chinese (Garlic) Chives

-

(green parts only)

0.25

cup

Extra Virgin Olive Oil

0.5

teaspoon

Sea Salt

0.13

teaspoon

Freshly Ground Pepper

4

medium

Boneless Chicken Breast

-

butterflied

0.5

cup

Coconut Flour

3

tablespoon

Sesame Seeds

3

tablespoon

Coconut Oil

4

medium

Bok Choy

-

chopped
INSTRUCTIONS
To make the quinoa… cook quinoa according to package instructions.

To make the pesto… blend macadamia nuts, pine nuts, basil, chives, olive oil, pinch of sea salt and pepper. Taste and adjust flavor with more salt, and pepper, as needed.

To prepare chicken…. Lay the boneless chicken breast on the cutting board with the smooth side down. Locate the small inner fillet, called the tender, and remove it by cutting away any connective tissue. Turn the breast over and, with the edge of a knife parallel to the cutting board, begin cutting down the length of the side of the breast. Carefully slice the breast in half widthwise almost to the other edge. Keep that edge intact and open the breast along the "fold."

Mix together the coconut flour and sesame seeds and place into a shallow bowl. Heat a large skillet over medium heat. Add 2 tablespoons coconut oil. Dredge the butterflied chicken through the mixture and pan fry in batches, 3-4 minutes on each side (add more coconut oil, if needed).

To make the bok choy… in a small skillet, heat 1 tablespoons over medium high heat and sauté the bok choy until tender. Season with salt and pepper to your liking.

You may replace the pine nuts or macadamia nuts with all walnuts, pine nuts or macadamia nuts, or you may omit the nuts altogether.
NOTES
You may use one large bok choy (these are the size of a full head of celery) or 6 small baby bok choy.
We recommend using only the light tan version of quinoa (the red, black and multicolor quinoa are harder to digest). To improve the digestibility of the quinoa, consider adding 50-100% more water and cooking an additional 20 minutes (until all the water is absorbed).