Gingered Coconut Banana Popsicles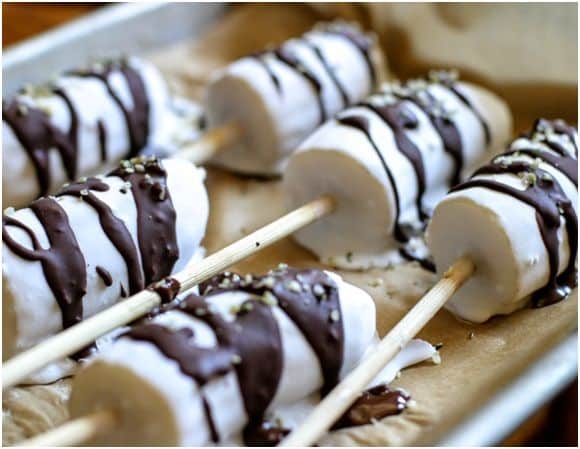 INGREDIENTS
3

Banana

1

can

Coconut Milk

-

full fat organic

0.5

tablespoon

Coconut Oil

-

extra virgin

Brown Sugar

-

to taste

0.5

Dark Chocolate Dove Bars

-

green & blacks organic,with ginger

1

pinch

Hemp Seeds

-

as garnish
INSTRUCTIONS
To make the popsicles, cut the bananas in half and poke each half with a wooden popsicle stick (we used thick wooden skewers in a pinch). Place them onto a parchment covered baking sheet and put into the freezer for an hour.

Open the can of full fat coconut milk. Make sure it is thoroughly stirred. Dip each frozen banana into the coconut milk and place back onto the baking pan and return to the freezer for half an hour. Repeat entire process one more time. (If you would like them a bit sweeter you can sprinkle brown sugar onto each before putting them into the freezer the first time around.)

While the bananas are freezing for their third time, create a double boiler by filling a small saucepan with a little water and placing a small ceramic bowl inside. Make sure the water level doesn't overflow into the bowl. Heat the double boiler on medium.

Meanwhile cut the chocolate into thin small pieces and pour into the small ceramic bowl in the saucepan. With a small spoon stir until completely melted. Add the ½ tablespoon of coconut oil and stir until fully incorporated.

Remove the bananas from the freezer, and generously drizzle the chocolate over the bananas and sprinkle with hemp seeds and more brown sugar as a garnish. Return to freezer to harden for about 10 minutes.
NOTES
You can substitute the ginger chocolate with Theo or Bija brand salted dark chocolate if you would like to as well.